Indonesia, Jakarta
Chosen period: from 10:00 to 18:00 - January 10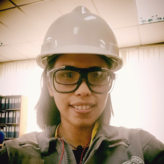 Laura
Professional interpreter in Jakarta
Response rate:

62%
Average response time:

Within a few hours
Send a preliminary request to the interpreter or book now the chosen date and time by means of the "Order now" button opposite to services below.
I graduated from Russia in 2010, with background International Law. Had been working as Liaison Officer in formal/informal events since 2006, also had been working for more than 10 years in aviation company, oil & gas, online transportation and financial investment as interpreter, translator and proofreader.
I graduated from Russia in 2010, with background of International Law. During my study in Russia from 2004-2010, I had been working as Liaison Officer for formal and/or informal occasions held by Indonesian Military Attaché Office and Indonesian Embassy in Moscow. I had been working for more than 5 years in aviation company as interpreter and translator for contracts, agreements, training class and also service & maintenance manual book in Jakarta, Makassar and Surabaya. I used to be a volunteer as Russian tutor for Indonesian community of Rumah Bahasa (House of Languages) and member of Polyglot Indonesia community. I also worked in an fabrication for oil and gas company as Communication Specialist in Batam My scope of work is under QA&QC Department translating certificates and testing report for the client. I also translate procedures of work. I assist the interpreting at the yard for Russian specialists. Currently, I am a freelancer as translator and proofreader in an online transportation provider also working full time as HR in a financial investment company that has more than 200 employees from all over the globe. I am able to work with light supervision and under pressure. I get used to work in a team and also across team. I am willing to be relocated per project in separate agreement.
Interpretation specialization:
Aircraft and astronautics | Computers and Internet (as a whole) | Finance and credit | Law: contracts | Military science | Oil and gas | Religion, mythology, esoterics | Tourism and travel | Transport, vehicles, cargo transportation
Interpretation language pairs:
English - Indonesian | Indonesian - English | Russian - Indonesian | Indonesian - Russian
Services are available for order, January 10 (10:00 - 18:00): Change date, time?
Price*
for 8 hours

Order

Escort of individuals

Free cancelation

Discount -12 %

271.0 EUR

order now

Booking date and time: January 10 (10:00 - 18:00)

Escort of individuals in Jakarta

Languages: Indonesian - English

Price: 271.0 EUR

Interpreter at a seminar or conference

Free cancelation

Discount -67 %

110.0 EUR

order now

Booking date and time: January 10 (10:00 - 18:00)

Interpreter at a seminar or conference in Jakarta

Languages: Indonesian - English

Price: 110.0 EUR

Phone interpreter

Free cancelation

Discount -22 %

256.0 EUR

order now

Booking date and time: January 10 (10:00 - 18:00)

Phone interpreter in Jakarta

Languages: Indonesian - English

Price: 256.0 EUR

Interpreter at an exhibition

Free cancelation

Discount -25 %

274.0 EUR

order now

Booking date and time: January 10 (10:00 - 18:00)

Interpreter at an exhibition in Jakarta

Languages: Indonesian - English

Price: 274.0 EUR

Interpreter at negotiations

Free cancelation

Discount -63 %

138.0 EUR

order now

Booking date and time: January 10 (10:00 - 18:00)

Interpreter at negotiations in Jakarta

Languages: Indonesian - English

Price: 138.0 EUR

Escort of individuals

Free cancelation

Discount -80 %

73.0 EUR

order now

Booking date and time: January 10 (10:00 - 18:00)

Escort of individuals in Jakarta

Languages: Indonesian - English

Price: 73.0 EUR

Interpreter at negotiations

Free cancelation

Discount -69 %

183.0 EUR

order now

Booking date and time: January 10 (10:00 - 18:00)

Interpreter at negotiations in Jakarta

Languages: Indonesian - English

Price: 183.0 EUR

Professional translation

GET QUOTE
*Order price for chosen time, with discounts
How to order interpreter in Jakarta:
- click "Order now" opposite to the chosen service
- use a credit card or receive an invoice for payment to place the order. Also you can choose option of cash payment the interpreter.
- receive order confirmation and the Voucher with data for contact with the interpreter