Morocco, Zagora
Chosen period: from 10:00 to 18:00 - February 11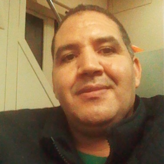 Ait Yacob
Professional interpreter in Zagora
Response rate:

100%
Average response time:

Within a few hours
Send a preliminary request to the interpreter or book now the chosen date and time by means of the "Order now" button opposite to services below.
I am very interested in the Freelance Translation and interpretation . With more than ten years of both written and spoken translation and a degree in English and a Master in Marketing and International trade I believe that I would be perfect for the role of Freelance and short-term mission of Translation .
My actual job is interpreter translator at a maintenance company in Morocco where I am responsible for interpreting and translation from English to French and from English to Arabic for clients from Arabic speaking countries. My fluency in English coupled with my friendly and professional conversational skills helps me to interact with all classes of clientele and employees. I have translated more than 100 documents about ( maintenance management, shutdown management, performance management, OSH program, procurement process, refurbishment plans etc). I am also ready to travel to any place of the world, especially in Africa . I believe that I am ideal for the role of Freelance Translator because I am confident and reliable in my language skills and work well with the public. With my years of translation experience and my proven academic abilities I believe I have a lot to offer your company. I am available to talk about any mission of translation and interpretation at any time and hope you will get in touch soon.
Interpretation specialization:
Commerce (as a whole) | Education, training and pedagogics | Logistics | Industrial production
Interpretation language pairs:
English - French | French - English | Arabic - French | French - Arabic | Arabic - English | English - Arabic
Services are available for order, February 11 (10:00 - 18:00): Change date, time?
Price*
for 8 hours

Order

Interpreter at negotiations

Additional services

Free cancelation

256.0 EUR

order now

Booking date and time: February 11 (10:00 - 18:00)

Interpreter at negotiations in Zagora

Languages: English - French

Price: 256.0 EUR

Professional translation

GET QUOTE
*Order price for chosen time, with discounts
How to order interpreter in Zagora:
- click "Order now" opposite to the chosen service
- use a credit card or receive an invoice for payment to place the order. Also you can choose option of cash payment the interpreter.
- receive order confirmation and the Voucher with data for contact with the interpreter