Italy, Treviso
Chosen period: from 10:00 to 18:00 - January 10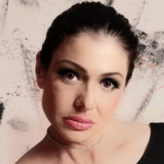 Ilaria
Professional interpreter in Treviso
Send a preliminary request to the interpreter or book now the chosen date and time by means of the "Order now" button opposite to services below.
my name is Ilaria and I am graduated in foreign languages and awarded by the EC with a Master in Export Management. I am an Intepreter/Translator SINCE 2004 of different fields since I fluently speak and write 6 languages (Italian, English, French, German, Spanish, Portuguese) .
Besides, I have a Solid Preparation as International Marketing Expert/Business Mediator for commercial negotiation meetings, Travelling, Events, Thanks to my experience I can grant and offer different kind of services using different languages at the same time and I am free to travel.
Interpretation specialization:
Architecture, interior design | Cosmetics, perfumery, fashion | International relations and organizations | Law (as a whole) | Law: contracts | Sports and sports equipment | Accounting
Interpretation language pairs:
Spanish - French | French - Spanish | Portuguese - French | French - Portuguese | French - English | English - French | English - Spanish | Spanish - English | Portuguese - Italian | Italian - Portuguese | Spanish - Italian | Italian - Spanish | German - Italian | French - Italian | Italian - French | English - Italian | Italian - English
Services are available for order, January 10 (10:00 - 18:00): Change date, time?
Price*
for 8 hours

Order

Interpreter at negotiations

Free cancelation

Discount -25 %

240.0 EUR

order now

Booking date and time: January 10 (10:00 - 18:00)

Interpreter at negotiations in Treviso

Languages: English - French

Price: 240.0 EUR

Professional translation

GET QUOTE
*Order price for chosen time, with discounts
How to order interpreter in Treviso:
- click "Order now" opposite to the chosen service
- use a credit card or receive an invoice for payment to place the order. Also you can choose option of cash payment the interpreter.
- receive order confirmation and the Voucher with data for contact with the interpreter