Latvia, Riga
Chosen period: from 10:00 to 18:00 - February 4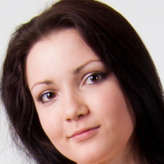 Volha
Professional interpreter in Riga
Response rate:

57%
Average response time:

Within a few hours
Send a preliminary request to the interpreter or book now the chosen date and time by means of the "Order now" button opposite to services below.
Diligent and creative translator and interpreter in Rige with bachelor and postgraduate degrees, experience in different spheres (marketing, medicine, PR, etc.) and participation in various projects and events.
I am a professional bachelor of translation and interpreting with a 3-year experience in professional field and a postgraduate degree of University of Ghent. During years of work I have been involved into different events where I performed as a consecutive translator. I am diligent, hard-working, responsible and creative person easy to work with.
Interpretation specialization:
Cookery and food industry | Cosmetics, perfumery, fashion | Linguistics | Literature and literary criticism | Marketing, market research | Mass media, journalism | Medicine (as a whole) | Music and theater | Sports and sports equipment | Tourism and travel | Accounting
Interpretation language pairs:
English - Belarusian | Belarusian - English | English - Russian | Russian - English
Services are available for order, February 4 (10:00 - 18:00): Change date, time?
Price*
for 8 hours

Order

Interview interpreter

Free cancelation

Discount -13 %

112.0 EUR

order now

Booking date and time: February 4 (10:00 - 18:00)

Interview interpreter in Riga

Languages: English - Belarusian

Price: 112.0 EUR

Interpreter at celebrations

Free cancelation

Discount -13 %

112.0 EUR

order now

Booking date and time: February 4 (10:00 - 18:00)

Interpreter at celebrations in Riga

Languages: English - Belarusian

Price: 112.0 EUR

Interpreter in a clinic

Free cancelation

Discount -5 %

144.0 EUR

order now

Booking date and time: February 4 (10:00 - 18:00)

Interpreter in a clinic in Riga

Languages: English - Belarusian

Price: 144.0 EUR

Interpreter at negotiations

Free cancelation

Discount -10 %

152.0 EUR

order now

Booking date and time: February 4 (10:00 - 18:00)

Interpreter at negotiations in Riga

Languages: English - Belarusian

Price: 152.0 EUR

Phone interpreter

168.0 EUR

order now

Booking date and time: February 4 (10:00 - 18:00)

Phone interpreter in Riga

Languages: English - Belarusian

Price: 168.0 EUR

Escort of individuals

Free cancelation

Discount -10 %

152.0 EUR

order now

Booking date and time: February 4 (10:00 - 18:00)

Escort of individuals in Riga

Languages: English - Belarusian

Price: 152.0 EUR

Escort of delegations

Free cancelation

Discount -10 %

152.0 EUR

order now

Booking date and time: February 4 (10:00 - 18:00)

Escort of delegations in Riga

Languages: English - Belarusian

Price: 152.0 EUR

Interpreter at an exhibition

Free cancelation

Discount -10 %

152.0 EUR

order now

Booking date and time: February 4 (10:00 - 18:00)

Interpreter at an exhibition in Riga

Languages: English - Belarusian

Price: 152.0 EUR

Interpretation of excursions, tour guide services

Free cancelation

Discount -8 %

176.0 EUR

order now

Booking date and time: February 4 (10:00 - 18:00)

Interpretation of excursions, tour guide services in Riga

Languages: English - Belarusian

Price: 176.0 EUR

Interpreter at presentation

Free cancelation

Discount -8 %

184.0 EUR

order now

Booking date and time: February 4 (10:00 - 18:00)

Interpreter at presentation in Riga

Languages: English - Belarusian

Price: 184.0 EUR

Interpreter at a seminar or conference

200.0 EUR

order now

Booking date and time: February 4 (10:00 - 18:00)

Interpreter at a seminar or conference in Riga

Languages: English - Belarusian

Price: 200.0 EUR

Professional translation

GET QUOTE
*Order price for chosen time, with discounts
How to order interpreter in Riga:
- click "Order now" opposite to the chosen service
- use a credit card or receive an invoice for payment to place the order. Also you can choose option of cash payment the interpreter.
- receive order confirmation and the Voucher with data for contact with the interpreter