Dominican Republic, Puerto Plata
Chosen period: from 10:00 to 18:00 - February 15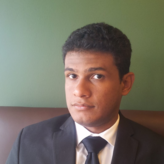 Clifford
Professional interpreter in Puerto Plata
Send a preliminary request to the interpreter or book now the chosen date and time by means of the "Order now" button opposite to services below.
4 years working for the International Affairs Bureau of the Ministry of Education of the Dominican Republic, and experience in legal area due to several years of study.
I'm a private law professional with 9 years of experence working for the governement of the Dominican Republic and 4 years working as English - Spanish, Spanish - English, Spanish - French, French - Spanish interpreter at the international affairs bureau mainly as an interpreter during meetings beetween ONGs, Foreing Government and International Agencys representatives and National Education Authorities. I have a LLM (Master of Laws) degree in Private Law and another LLM in Comparative Law, as well as several years in the Private Practice of laws.
Interpretation specialization:
Commerce (as a whole) | Law (as a whole) | Law: legal proceedings | Accounting
Interpretation language pairs:
French - Spanish | Spanish - French | English - Spanish | Spanish - English
Services are available for order, February 15 (10:00 - 18:00): Change date, time?
Price*
for 8 hours

Order

Interpreter at presentation

Free cancelation

Discount -10 %

725.0 EUR

order now

Booking date and time: February 15 (10:00 - 18:00)

Interpreter at presentation in Puerto Plata

Languages: Spanish - English

Price: 725.0 EUR

Escort of individuals

Free cancelation

Discount -82 %

147.0 EUR

order now

Booking date and time: February 15 (10:00 - 18:00)

Escort of individuals in Puerto Plata

Languages: Spanish - English

Price: 147.0 EUR

Phone interpreter

805.0 EUR

order now

Booking date and time: February 15 (10:00 - 18:00)

Phone interpreter in Puerto Plata

Languages: Spanish - English

Price: 805.0 EUR

Interpreter at negotiations

Free cancelation

Discount -95 %

81.0 EUR

order now

Booking date and time: February 15 (10:00 - 18:00)

Interpreter at negotiations in Puerto Plata

Languages: Spanish - English

Price: 81.0 EUR

Professional translation

GET QUOTE
*Order price for chosen time, with discounts
How to order interpreter in Puerto Plata:
- click "Order now" opposite to the chosen service
- use a credit card or receive an invoice for payment to place the order. Also you can choose option of cash payment the interpreter.
- receive order confirmation and the Voucher with data for contact with the interpreter