Uruguay, Montevideo
Chosen period: from 10:00 to 18:00 - January 10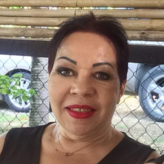 Aura
Professional interpreter in Montevideo
Response rate:

9%
Average response time:

Within an hour
Send a preliminary request to the interpreter or book now the chosen date and time by means of the "Order now" button opposite to services below.
More than 35 years of experience as consecutive and simultaneous interpreter in Montevideo. Interpretation, translation, technical lexicon, legal lexicon, business correspondence, participation in negotiations, interpretation at exhibitions, the personal assistant (assistant).
Je suis vénézuélienne, mais depuis le mois de Janvier 2018 Je réside à Montevideo Uruguay. Pendant plus de 23 ans J'ai été Professeur de Biologie Cellulaire et Moléculaire á la Faculté de Médecine dans la ville où J'ai habité la plupart du temps au Venezuela. J'ai vécu au Canada française 7 ans au total et là-bas J'ai eu l'opportunité d'apprendre le Français. Au Québec J'ai eu des belles expériences de vie tant du côté professionnel que du côté personnel. J'aime parler de science, de voyages, de la culture française, du style de vie dans des différents pays, de la nourriture, etc. J'ai quitté Venezuela pour essayer une nouvelle vie et une autre façon de travailler, mais malgré le fait de vivre ici à Montevideo mon rêve continu d'être vivre à Paris.
Interpretation specialization:
Biology (biotechnics, biochemistry, microbiology) | Education, training and pedagogics | General interest subjects | Genetic engineering | Medicine (as a whole) | Natural sciences (as a whole)
Interpretation language pairs:
English - Spanish | Spanish - English | English - French | French - English | French - Spanish | Spanish - French
Services are available for order, January 10 (10:00 - 18:00): Change date, time?
Price*
for 8 hours

Order

Escort of individuals

Free cancelation

Discount -17 %

732.0 EUR

order now

Booking date and time: January 10 (10:00 - 18:00)

Escort of individuals in Montevideo

Languages: Spanish - English

Price: 732.0 EUR

Interpreter at negotiations

Free cancelation

Discount -17 %

732.0 EUR

order now

Booking date and time: January 10 (10:00 - 18:00)

Interpreter at negotiations in Montevideo

Languages: Spanish - English

Price: 732.0 EUR

Interpreter at an exhibition

Free cancelation

Discount -17 %

732.0 EUR

order now

Booking date and time: January 10 (10:00 - 18:00)

Interpreter at an exhibition in Montevideo

Languages: Spanish - English

Price: 732.0 EUR

Interpreter at a seminar or conference

Additional services

Free cancelation

878.0 EUR

order now

Booking date and time: January 10 (10:00 - 18:00)

Interpreter at a seminar or conference in Montevideo

Languages: Spanish - English

Price: 878.0 EUR

Phone interpreter

878.0 EUR

order now

Booking date and time: January 10 (10:00 - 18:00)

Phone interpreter in Montevideo

Languages: Spanish - English

Price: 878.0 EUR

Professional translation

GET QUOTE
*Order price for chosen time, with discounts
How to order interpreter in Montevideo:
- click "Order now" opposite to the chosen service
- use a credit card or receive an invoice for payment to place the order. Also you can choose option of cash payment the interpreter.
- receive order confirmation and the Voucher with data for contact with the interpreter