Italy, Milan
Chosen period: from 10:00 to 18:00 - January 11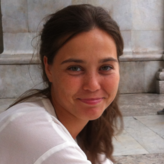 Zsuzsa
Professional interpreter in Milan
Response rate:

100%
Average response time:

Within a few hours
Send a preliminary request to the interpreter or book now the chosen date and time by means of the "Order now" button opposite to services below.
After 1 year of interpreter school received 2 official certificates. I have experience in several fileds (cultural, economical, trade, politics, real estate). I provide translation, consecutive interpretation, or if you need someone just to help you during your stay in Hungary. I'm flexible in time and can also travel if you need.
Offro servizi di traduzione e di interpretariato, in orario flessibile. Con domicilio a Budapest sono disponibile sia nella capitale che in tutto il paese, faccio viaggi volentireri anche in Italia. Ho esperienze nel settore fieristico, immobiliare, del commercio, della politica, dell'economia, dell'agricoltura, dell'arte e della produzione. Sono interprete qualificata (qualifiche rilasciate in Ungheria) di madrelingua ungherese.
Interpretation specialization:
Agriculture | Commerce (as a whole) | Industrial production | International relations and organizations | Mass media, journalism | Music and theater | Real estate and development | Telecommunications | Tourism and travel | Trade (as a whole) | Economy
Interpretation language pairs:
Italian - Hungarian | Hungarian - Italian
Services are available for order, January 11 (10:00 - 18:00): Change date, time?
Price*
for 8 hours

Order

Escort of individuals

Free cancelation

Discount -33 %

160.0 EUR

order now

Booking date and time: January 11 (10:00 - 18:00)

Escort of individuals in Milan

Languages: Italian - Hungarian

Price: 160.0 EUR

Interpreter at negotiations

Additional services

Free cancelation

352.0 EUR

order now

Booking date and time: January 11 (10:00 - 18:00)

Interpreter at negotiations in Milan

Languages: Italian - Hungarian

Price: 352.0 EUR

Professional translation

GET QUOTE
*Order price for chosen time, with discounts
How to order interpreter in Milan:
- click "Order now" opposite to the chosen service
- use a credit card or receive an invoice for payment to place the order. Also you can choose option of cash payment the interpreter.
- receive order confirmation and the Voucher with data for contact with the interpreter