Italy, Milan
Chosen period: from 10:00 to 18:00 - February 14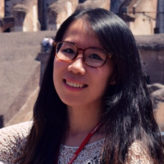 Sophia
Professional interpreter in Milan
Response rate:

100%
Average response time:

Within a few hours
Send a preliminary request to the interpreter or book now the chosen date and time by means of the "Order now" button opposite to services below.
- Graduated from Xiamen University. - Worked in an American company for 3.5 years - enriched written translation / oral translation experience in different industries. - provide professional business interpretation service for meeting, exhibition and business visit, etc.
Hello, I graduated from Xiamen University in 2011. I studied software engineering. I worked in an American company for 3.5 years in Shanghai. I have been an interpreter for almost 3 years. (English - Chinese) I look forward to cooperating with you! thanks!
Interpretation specialization:
Accounting | Advertizing and PR | Computers: information technologies | Computers: software | Economy | Law (as a whole) | Photography, creation and processing of images | Textile industry | Tourism and travel | Trade (as a whole) | Commerce (as a whole)
Interpretation language pairs:
Italian - Chinese | Chinese - English | English - Chinese
Services are available for order, February 14 (10:00 - 18:00): Change date, time?
Price*
for 8 hours

Order

Interpreter at an exhibition

200.0 EUR

order now

Booking date and time: February 14 (10:00 - 18:00)

Interpreter at an exhibition in Milan

Languages: Chinese - English

Price: 200.0 EUR

Interpretation of excursions, tour guide services

297.2 EUR

order now

Booking date and time: February 14 (10:00 - 18:00)

Interpretation of excursions, tour guide services in Milan

Languages: Chinese - English

Price: 297.2 EUR

Phone interpreter

440.0 EUR

order now

Booking date and time: February 14 (10:00 - 18:00)

Phone interpreter in Milan

Languages: Chinese - English

Price: 440.0 EUR

Interpreter at negotiations

Free cancelation

Discount -20 %

480.0 EUR

order now

Booking date and time: February 14 (10:00 - 18:00)

Interpreter at negotiations in Milan

Languages: Chinese - English

Price: 480.0 EUR

Interpreter at a seminar or conference

Free cancelation

Discount -11 %

640.0 EUR

order now

Booking date and time: February 14 (10:00 - 18:00)

Interpreter at a seminar or conference in Milan

Languages: Chinese - English

Price: 640.0 EUR

Professional translation

GET QUOTE
*Order price for chosen time, with discounts
How to order interpreter in Milan:
- click "Order now" opposite to the chosen service
- use a credit card or receive an invoice for payment to place the order. Also you can choose option of cash payment the interpreter.
- receive order confirmation and the Voucher with data for contact with the interpreter