Germany, Mannheim
Chosen period: from 10:00 to 18:00 - December 14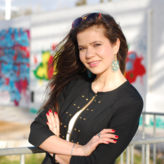 Anna
Professional interpreter in Mannheim
Response rate:

43%
Average response time:

Within an hour
Send a preliminary request to the interpreter or book now the chosen date and time by means of the "Order now" button opposite to services below.
Professional interpreter with over ten years' experience possesses excellent fluency – both verbal and written – in English - Russian, English - Greek and Russian - Greek in Germany. Understands terminologies in the following industries: Light and Heavy Industry, Agriculture, Medical, Finance, High-tech, History, Culture and Law.
Dedicated English-Russian, English - Greek, Greek - Russian interpreter with years of experience working in professional and scientific communities. Exceptionally accurate translation skills, including simultaneous translation between all parties during teleconferences and in-person meetings. Diverse translation work including scientific materials and large-scale executive organization documents. Consistently relied upon for verification and correction of translated materials. I am passionate about facilitating productive cross-cultural relationships. I possess clear enunciation and pronunciation – Pleasant/professional voice and polite forms of expression. Excellent social skills: ability to work with a wide range of people from various backgrounds, using superb customer service and communication skills.
Interpretation specialization:
Agriculture | Construction, construction equipment | Equipment: the industrial | Exchange, investments, securities | Industrial production | International relations and organizations | Marketing, market research | Oil and gas | Social sciences, sociology, ethics, etc. | Transport, vehicles, cargo transportation
Interpretation language pairs:
English - Greek | Greek - English | Russian - Greek | Greek - Russian | English - Russian | Russian - English
Services are available for order, December 14 (10:00 - 18:00): Change date, time?
Price*
for 8 hours

Order

Interpreter at negotiations

Free cancelation

Discount -17 %

200.0 EUR

order now

Booking date and time: December 14 (10:00 - 18:00)

Interpreter at negotiations in Mannheim

Languages: English - Greek

Price: 200.0 EUR

Escort of delegations

Free cancelation

Discount -17 %

200.0 EUR

order now

Booking date and time: December 14 (10:00 - 18:00)

Escort of delegations in Mannheim

Languages: English - Greek

Price: 200.0 EUR

Interview interpreter

Free cancelation

Discount -17 %

200.0 EUR

order now

Booking date and time: December 14 (10:00 - 18:00)

Interview interpreter in Mannheim

Languages: English - Greek

Price: 200.0 EUR

Interpreter in a clinic

Free cancelation

Discount -17 %

200.0 EUR

order now

Booking date and time: December 14 (10:00 - 18:00)

Interpreter in a clinic in Mannheim

Languages: English - Greek

Price: 200.0 EUR

Interpreter at an exhibition

Free cancelation

Discount -17 %

200.0 EUR

order now

Booking date and time: December 14 (10:00 - 18:00)

Interpreter at an exhibition in Mannheim

Languages: English - Greek

Price: 200.0 EUR

Escort of delegations

Free cancelation

Discount -14 %

240.0 EUR

order now

Booking date and time: December 14 (10:00 - 18:00)

Escort of delegations in Mannheim

Languages: English - Greek

Price: 240.0 EUR

Interpreter at presentation

Free cancelation

Discount -14 %

240.0 EUR

order now

Booking date and time: December 14 (10:00 - 18:00)

Interpreter at presentation in Mannheim

Languages: English - Greek

Price: 240.0 EUR

Interpreter of press conferences

Free cancelation

Discount -14 %

240.0 EUR

order now

Booking date and time: December 14 (10:00 - 18:00)

Interpreter of press conferences in Mannheim

Languages: English - Greek

Price: 240.0 EUR

Interpreter at a seminar or conference

Free cancelation

Discount -14 %

240.0 EUR

order now

Booking date and time: December 14 (10:00 - 18:00)

Interpreter at a seminar or conference in Mannheim

Languages: English - Greek

Price: 240.0 EUR

Interpreter at celebrations

Free cancelation

Discount -14 %

240.0 EUR

order now

Booking date and time: December 14 (10:00 - 18:00)

Interpreter at celebrations in Mannheim

Languages: English - Greek

Price: 240.0 EUR

Professional translation

GET QUOTE
*Order price for chosen time, with discounts
How to order interpreter in Mannheim:
- click "Order now" opposite to the chosen service
- use a credit card or receive an invoice for payment to place the order. Also you can choose option of cash payment the interpreter.
- receive order confirmation and the Voucher with data for contact with the interpreter