France, Lille
Chosen period: from 10:00 to 18:00 - January 3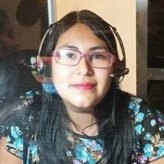 Evelyn
Professional interpreter in Lille
Response rate:

70%
Average response time:

Within a day
Send a preliminary request to the interpreter or book now the chosen date and time by means of the "Order now" button opposite to services below.
Interpreter, Translator, and Teacher with experience in all three fields and more than 200 hours of Interpreting. Currently studying a Master in Arras, France, with a Double Diploma agreement with the Polytechnic University of Porto
Interprete, traduttore e insegnante con esperienza in tutti e tre i campi e più di 200 ore di interpretariato. Attualmente in corso di studio di un Master ad Arras, in Francia, con un doppio diploma di laurea con l'Università Politecnica di Porto.
Interpretation specialization:
Commerce (as a whole) | Ecology and environmental protection | Education, training and pedagogics | Linguistics | Literature and literary criticism | Social sciences, sociology, ethics, etc. | Textile industry
Interpretation language pairs:
Italian - Spanish | Portuguese - Spanish | French - English | English - French | French - Spanish | Spanish - French | English - Spanish | Spanish - English
Services are available for order, January 3 (10:00 - 18:00): Change date, time?
Price*
for 8 hours

Order

Escort of individuals

Free cancelation

Discount -13 %

280.0 EUR

order now

Booking date and time: January 3 (10:00 - 18:00)

Escort of individuals in Lille

Languages: French - Spanish

Price: 280.0 EUR

Interpreter at an exhibition

Free cancelation

Discount -13 %

280.0 EUR

order now

Booking date and time: January 3 (10:00 - 18:00)

Interpreter at an exhibition in Lille

Languages: French - Spanish

Price: 280.0 EUR

Interpreter at celebrations

Free cancelation

Discount -13 %

280.0 EUR

order now

Booking date and time: January 3 (10:00 - 18:00)

Interpreter at celebrations in Lille

Languages: French - Spanish

Price: 280.0 EUR

Interpreter at negotiations

Free cancelation

Discount -13 %

280.0 EUR

order now

Booking date and time: January 3 (10:00 - 18:00)

Interpreter at negotiations in Lille

Languages: French - Spanish

Price: 280.0 EUR

Interpreter in a clinic

Free cancelation

Discount -13 %

280.0 EUR

order now

Booking date and time: January 3 (10:00 - 18:00)

Interpreter in a clinic in Lille

Languages: French - Spanish

Price: 280.0 EUR

Phone interpreter

Additional services

Free cancelation

Discount -13 %

280.0 EUR

order now

Booking date and time: January 3 (10:00 - 18:00)

Phone interpreter in Lille

Languages: French - Spanish

Price: 280.0 EUR

Escort of delegations

Free cancelation

Discount -13 %

280.0 EUR

order now

Booking date and time: January 3 (10:00 - 18:00)

Escort of delegations in Lille

Languages: French - Spanish

Price: 280.0 EUR

Interpreter at a seminar or conference

Free cancelation

Discount -15 %

440.0 EUR

order now

Booking date and time: January 3 (10:00 - 18:00)

Interpreter at a seminar or conference in Lille

Languages: French - Spanish

Price: 440.0 EUR

Interpreter at a seminar or conference

Free cancelation

Discount -15 %

440.0 EUR

order now

Booking date and time: January 3 (10:00 - 18:00)

Interpreter at a seminar or conference in Lille

Languages: French - Spanish

Price: 440.0 EUR

Professional translation

GET QUOTE
*Order price for chosen time, with discounts
How to order interpreter in Lille:
- click "Order now" opposite to the chosen service
- use a credit card or receive an invoice for payment to place the order. Also you can choose option of cash payment the interpreter.
- receive order confirmation and the Voucher with data for contact with the interpreter