France, Lille
Chosen period: from 10:00 to 18:00 - January 3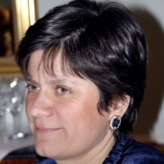 Brigitte
Professional interpreter in Lille
Response rate:

79%
Average response time:

Within a few hours
Send a preliminary request to the interpreter or book now the chosen date and time by means of the "Order now" button opposite to services below.
At the moment, I regularly work in 2 languages for any type of interpreting (simultaneous/adhoc/consecutive): French/English but I am also fluent in Russian which I use for liaison work (Japanese or Spanish would only be useful now for trade fairs as a hostess or tourism...).
I have worked extensively with international, English, French and Russian, Japanese partners in many areas since 1981. In interpretation, I mainly have experience in negotiations/conferences, official meetings (State, MPs, EEC, EU Work Councils...) as well as work with charitable organisations and miscellaneous industries or services like the steel industry, aeronautics, media or the environment. Besides these missions I have worked in Marketing, translating Client's Focus groups (simultaneous on my own).
Interpretation specialization:
Banking | Cinema and television | Computers and Internet (as a whole) | Cosmetics, perfumery, fashion | Ecology and environmental protection | Education, training and pedagogics | Industrial production | Law (as a whole) | Marketing, market research | Metallurgy and metal working | Trade (as a whole)
Interpretation language pairs:
Russian - English | English - Russian | French - Japanese | Japanese - French | French - Spanish | Spanish - French | French - Russian | Russian - French | English - French | French - English
Services are available for order, January 3 (10:00 - 18:00): Change date, time?
Price*
for 8 hours

Order

Interpreter at an exhibition

Free cancelation

Discount -66 %

150.0 EUR

order now

Booking date and time: January 3 (10:00 - 18:00)

Interpreter at an exhibition in Lille

Languages: French - Spanish

Price: 150.0 EUR

Interpreter at a seminar or conference

Free cancelation

Discount -44 %

360.0 EUR

order now

Booking date and time: January 3 (10:00 - 18:00)

Interpreter at a seminar or conference in Lille

Languages: French - Spanish

Price: 360.0 EUR

Interpreter at negotiations

Free cancelation

Discount -63 %

250.0 EUR

order now

Booking date and time: January 3 (10:00 - 18:00)

Interpreter at negotiations in Lille

Languages: French - Spanish

Price: 250.0 EUR

Interpreter at negotiations

Free cancelation

Discount -8 %

660.0 EUR

order now

Booking date and time: January 3 (10:00 - 18:00)

Interpreter at negotiations in Lille

Languages: French - Spanish

Price: 660.0 EUR

Professional translation

GET QUOTE
*Order price for chosen time, with discounts
How to order interpreter in Lille:
- click "Order now" opposite to the chosen service
- use a credit card or receive an invoice for payment to place the order. Also you can choose option of cash payment the interpreter.
- receive order confirmation and the Voucher with data for contact with the interpreter