Indonesia, Jakarta
Chosen period: from 10:00 to 18:00 - January 10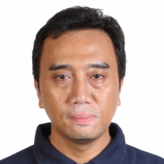 Mochamad Hikmat Gumilar
Professional interpreter in Jakarta
Response rate:

100%
Average response time:

Within an hour
Send a preliminary request to the interpreter or book now the chosen date and time by means of the "Order now" button opposite to services below.
I am a professional translator and interpreter of more than 25 years of experience in the business. Holder of English Diploma, Bachelor Degree in International Relations and Master in Marketing Management.
With More than 25 years of experience in translation, and hands-on experience in marketing/sales management as well as English teaching exposures, and reporter experience, your satisfaction towards quality translation is guaranteed. I have worked on various kinds of translation jobs in English-Indonesian and Indonesian-English pairs.
Interpretation specialization:
Automotive industry | Computers: software | Finance and credit | Law: contracts | Linguistics | Medicine: health care | Religion, mythology, esoterics | Telecommunications | Tourism and travel | Trade (as a whole) | Computers: information technologies
Interpretation language pairs:
English - Sundanese | Sundanese - English | English - Indonesian | Indonesian - English
Services are available for order, January 10 (10:00 - 18:00): Change date, time?
Price*
for 8 hours

Order

Interpreter at negotiations

Free cancelation

Discount -6 %

274.0 EUR

order now

Booking date and time: January 10 (10:00 - 18:00)

Interpreter at negotiations in Jakarta

Languages: Indonesian - English

Price: 274.0 EUR

Interpreter at an exhibition

293.0 EUR

order now

Booking date and time: January 10 (10:00 - 18:00)

Interpreter at an exhibition in Jakarta

Languages: Indonesian - English

Price: 293.0 EUR

Escort of delegations

293.0 EUR

order now

Booking date and time: January 10 (10:00 - 18:00)

Escort of delegations in Jakarta

Languages: Indonesian - English

Price: 293.0 EUR

Phone interpreter

293.0 EUR

order now

Booking date and time: January 10 (10:00 - 18:00)

Phone interpreter in Jakarta

Languages: Indonesian - English

Price: 293.0 EUR

Escort of individuals

293.0 EUR

order now

Booking date and time: January 10 (10:00 - 18:00)

Escort of individuals in Jakarta

Languages: Indonesian - English

Price: 293.0 EUR

Interpreter at a seminar or conference

512.0 EUR

order now

Booking date and time: January 10 (10:00 - 18:00)

Interpreter at a seminar or conference in Jakarta

Languages: Indonesian - English

Price: 512.0 EUR

Professional translation

GET QUOTE
*Order price for chosen time, with discounts
How to order interpreter in Jakarta:
- click "Order now" opposite to the chosen service
- use a credit card or receive an invoice for payment to place the order. Also you can choose option of cash payment the interpreter.
- receive order confirmation and the Voucher with data for contact with the interpreter