Indonesia, Jakarta
Chosen period: from 10:00 to 18:00 - January 10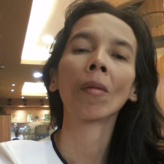 Suraya Bachtiar
Professional interpreter in Jakarta
Send a preliminary request to the interpreter or book now the chosen date and time by means of the "Order now" button opposite to services below.
I'm native Indonesian with qualified and professional translator, reliable with huge experience in translating various type of legal documents and other general terminologies and proven ability to translate document from source language to target language and extensive experience for many years in the area of technical, business and etc.
A highly talented Interpreter with huge experience in language interpretation, providing an essential service, giving assistance to non-English speaking parties; deep background in performing a wide variety of language interpretation activities for the parties; Sound knowledge of the general subject of the speeches that are to be interpreted; General erudition and intimate familiarity with both cultures; Extensive vocabulary in both languages; Profound ability to express thoughts clearly and concisely on both languages; Excellent note-taking technique for consecutive interpreting.
Interpretation specialization:
Equipment and technologies (as a whole) | Accounting
Interpretation language pairs:
English - Indonesian | Indonesian - English
Services are available for order, January 10 (10:00 - 18:00): Change date, time?
Price*
for 8 hours

Order

Escort of individuals

Free cancelation

Discount -16 %

154.0 EUR

order now

Booking date and time: January 10 (10:00 - 18:00)

Escort of individuals in Jakarta

Languages: Indonesian - English

Price: 154.0 EUR

Interpreter at negotiations

Free cancelation

Discount -12 %

169.0 EUR

order now

Booking date and time: January 10 (10:00 - 18:00)

Interpreter at negotiations in Jakarta

Languages: Indonesian - English

Price: 169.0 EUR

Interpreter at an exhibition

Free cancelation

Discount -12 %

169.0 EUR

order now

Booking date and time: January 10 (10:00 - 18:00)

Interpreter at an exhibition in Jakarta

Languages: Indonesian - English

Price: 169.0 EUR

Phone interpreter

190.0 EUR

order now

Booking date and time: January 10 (10:00 - 18:00)

Phone interpreter in Jakarta

Languages: Indonesian - English

Price: 190.0 EUR

Professional translation

GET QUOTE
*Order price for chosen time, with discounts
How to order interpreter in Jakarta:
- click "Order now" opposite to the chosen service
- use a credit card or receive an invoice for payment to place the order. Also you can choose option of cash payment the interpreter.
- receive order confirmation and the Voucher with data for contact with the interpreter