Indonesia, Jakarta
Chosen period: from 10:00 to 18:00 - January 10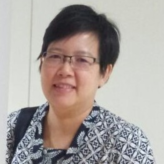 Grace
Professional interpreter in Jakarta
Response rate:

100%
Average response time:

Within a few hours
Send a preliminary request to the interpreter or book now the chosen date and time by means of the "Order now" button opposite to services below.
Independent interpreter & translator with interpreting experience in law enforcement and military workshops and trainings, conferences and seminars in various fields with translation experience for more than 15 years particularly in the field of information technology, consumer electronics, social science, procurement and HR development.
As a simultaneous and consecutive interpreter, I must have knowledge in various fields depending on the clients' needs. I believe that a person will always grow as long as she is willing to keep on learning, and that is exactly what I do before each assignment. My educational background is in Marketing, but I have a hunger to always learn about the latest innovation in information technology and engineering.
Interpretation specialization:
Commerce (as a whole) | Ecology and environmental protection | Education, training and pedagogics | Equipment: electronics | Governance and management | International relations and organizations | Logistics | Marketing, market research | Military science | Safety (as a whole) | General interest subjects
Interpretation language pairs:
English - Indonesian | Indonesian - English
Services are available for order, January 10 (10:00 - 18:00): Change date, time?
Price*
for 8 hours

Order

Interpreter at negotiations

380.0 EUR

order now

Booking date and time: January 10 (10:00 - 18:00)

Interpreter at negotiations in Jakarta

Languages: Indonesian - English

Price: 380.0 EUR

Interpreter at negotiations

380.0 EUR

order now

Booking date and time: January 10 (10:00 - 18:00)

Interpreter at negotiations in Jakarta

Languages: Indonesian - English

Price: 380.0 EUR

Interpreter at negotiations

Free cancelation

Discount -6 %

366.0 EUR

order now

Booking date and time: January 10 (10:00 - 18:00)

Interpreter at negotiations in Jakarta

Languages: Indonesian - English

Price: 366.0 EUR

Interpreter in a clinic

Free cancelation

Discount -9 %

366.0 EUR

order now

Booking date and time: January 10 (10:00 - 18:00)

Interpreter in a clinic in Jakarta

Languages: Indonesian - English

Price: 366.0 EUR

Interpreter at negotiations

Free cancelation

Discount -23 %

311.0 EUR

order now

Booking date and time: January 10 (10:00 - 18:00)

Interpreter at negotiations in Jakarta

Languages: Indonesian - English

Price: 311.0 EUR

Interview interpreter

Additional services

Free cancelation

402.0 EUR

order now

Booking date and time: January 10 (10:00 - 18:00)

Interview interpreter in Jakarta

Languages: Indonesian - English

Price: 402.0 EUR

Escort of individuals

Additional services

Free cancelation

402.0 EUR

order now

Booking date and time: January 10 (10:00 - 18:00)

Escort of individuals in Jakarta

Languages: Indonesian - English

Price: 402.0 EUR

Interpreter at a seminar or conference

439.0 EUR

order now

Booking date and time: January 10 (10:00 - 18:00)

Interpreter at a seminar or conference in Jakarta

Languages: Indonesian - English

Price: 439.0 EUR

Interpreter at a seminar or conference

Additional services

Free cancelation

Discount -17 %

366.0 EUR

order now

Booking date and time: January 10 (10:00 - 18:00)

Interpreter at a seminar or conference in Jakarta

Languages: Indonesian - English

Price: 366.0 EUR

Interpreter at negotiations

Free cancelation

Discount -20 %

366.0 EUR

order now

Booking date and time: January 10 (10:00 - 18:00)

Interpreter at negotiations in Jakarta

Languages: Indonesian - English

Price: 366.0 EUR

Escort of delegations

Additional services

Free cancelation

457.0 EUR

order now

Booking date and time: January 10 (10:00 - 18:00)

Escort of delegations in Jakarta

Languages: Indonesian - English

Price: 457.0 EUR

Interpreter at a seminar or conference

Additional services

Free cancelation

476.0 EUR

order now

Booking date and time: January 10 (10:00 - 18:00)

Interpreter at a seminar or conference in Jakarta

Languages: Indonesian - English

Price: 476.0 EUR

Phone interpreter

Free cancelation

Discount -6 %

549.0 EUR

order now

Booking date and time: January 10 (10:00 - 18:00)

Phone interpreter in Jakarta

Languages: Indonesian - English

Price: 549.0 EUR

Professional translation

GET QUOTE
*Order price for chosen time, with discounts
How to order interpreter in Jakarta:
- click "Order now" opposite to the chosen service
- use a credit card or receive an invoice for payment to place the order. Also you can choose option of cash payment the interpreter.
- receive order confirmation and the Voucher with data for contact with the interpreter