Indonesia, Jakarta
Chosen period: from 10:00 to 18:00 - January 10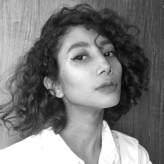 Fre
Professional interpreter in Jakarta
Send a preliminary request to the interpreter or book now the chosen date and time by means of the "Order now" button opposite to services below.
I'm a Indonesian freelance interpreter and I offer consecutive or simultaneous Interpreting services both to individuals and to companies. I'm very flexible and constantly travel around Indonesia, so I would also be happy to travel for work. I speak fluent English, Indonesian, and advance in Javanese.
I have experiences in exhibitions, meetings and interviews. My areas of expertise and interests are in visual design, fashion industry, tourism, food and culinary, entrepreneurship, environment, and ecology. Let me help you to get your message across and engage your audience beyond your national borders!
Interpretation specialization:
Advertizing and PR | Animal husbandry, zootechnics, zoology | Architecture, interior design | Art, crafts, painting | Commerce (as a whole) | Cookery and food industry | Cosmetics, perfumery, fashion | Ecology and environmental protection | Social sciences, sociology, ethics, etc. | Tourism and travel
Interpretation language pairs:
English - Javanese | Javanese - English | English - Indonesian | Indonesian - English
Services are available for order, January 10 (10:00 - 18:00): Change date, time?
Price*
for 8 hours

Order

Escort of individuals

280.0 EUR

order now

Booking date and time: January 10 (10:00 - 18:00)

Escort of individuals in Jakarta

Languages: Indonesian - English

Price: 280.0 EUR

Interpreter at an exhibition

280.0 EUR

order now

Booking date and time: January 10 (10:00 - 18:00)

Interpreter at an exhibition in Jakarta

Languages: Indonesian - English

Price: 280.0 EUR

Interpreter at negotiations

296.0 EUR

order now

Booking date and time: January 10 (10:00 - 18:00)

Interpreter at negotiations in Jakarta

Languages: Indonesian - English

Price: 296.0 EUR

Interview interpreter

296.0 EUR

order now

Booking date and time: January 10 (10:00 - 18:00)

Interview interpreter in Jakarta

Languages: Indonesian - English

Price: 296.0 EUR

Professional translation

GET QUOTE
*Order price for chosen time, with discounts
How to order interpreter in Jakarta:
- click "Order now" opposite to the chosen service
- use a credit card or receive an invoice for payment to place the order. Also you can choose option of cash payment the interpreter.
- receive order confirmation and the Voucher with data for contact with the interpreter