Indonesia, Jakarta
Chosen period: from 10:00 to 18:00 - January 10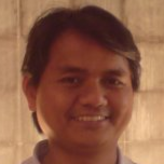 ferdi
Professional interpreter in Jakarta
Response rate:

75%
Average response time:

Within an hour
Send a preliminary request to the interpreter or book now the chosen date and time by means of the "Order now" button opposite to services below.
I have many years of Interpretation experience. I had managed to accomplish assignments on various events and seminars organized recently by International organizations such as the United Nations for Population Fund (UNFPA), Global Land Forum and Asian Para Games and corporations.
I was graduated from the State University of Jakarta in 1999 majoring in French Language and Litterature. Since I was in university, I happened to involve in part-time jobs as a tour guide across Java and Bali. Once in a while, I took an assignment as a corporate translator or interpreter to workshop or seminar conducted in French and English as a source language that I converted to the Indonesian Language and vice versa. I had taken my professional job as a full translator/Interpreter when I joined ESMOD INDONESIA, a fashion school from France where I interpreted on a daily basis in the classroom related the communication between teacher and students. I was a "bridge" that all subjects of teaching passed through me and I conveyed them to students in the Indonesian language and the other way around. And then, I pursued my career at the French Embassy where I practiced and communicated in the French language on my daily activities. I was "still" acted as a translator/Interpreter if there was a trade mission, embassy events. For the last couple of years. I had become a professional interpreter where I involved in many International events commissioned by local and International organizations.
Interpretation specialization:
Accounting | Equipment and technologies (as a whole) | Equipment: the industrial | Industrial production | International relations and organizations | Law (as a whole) | State, policy | Telecommunications, telephony | Tourism and travel | Trade (as a whole)
Interpretation language pairs:
English - Indonesian | Indonesian - English | French - English | English - French | French - Indonesian | Indonesian - French
Services are available for order, January 10 (10:00 - 18:00): Change date, time?
Price*
for 8 hours

Order

Interpreter at a seminar or conference

Additional services

Free cancelation

366.0 EUR

order now

Booking date and time: January 10 (10:00 - 18:00)

Interpreter at a seminar or conference in Jakarta

Languages: Indonesian - English

Price: 366.0 EUR

Professional translation

GET QUOTE
*Order price for chosen time, with discounts
How to order interpreter in Jakarta:
- click "Order now" opposite to the chosen service
- use a credit card or receive an invoice for payment to place the order. Also you can choose option of cash payment the interpreter.
- receive order confirmation and the Voucher with data for contact with the interpreter