Indonesia, Jakarta
Chosen period: from 10:00 to 18:00 - January 10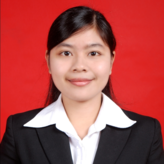 Tifani
Professional interpreter in Jakarta
Response rate:

100%
Average response time:

Within a few hours
Send a preliminary request to the interpreter or book now the chosen date and time by means of the "Order now" button opposite to services below.
Professional interpreter both simultaneous and consecutive methods in Indonesia for 6 years. I provide interpretation in all types of events such as corporate negotiation, daily and weekly meeting, workshop, training, visit to remote area and high leader (BOD, BOC) meeting in the areas of organization, banking, governmental, and others
I am a professional interpreter who focus in Indonesian-English and English-Indonesian interpretation in Indonesia for various cities, villages and sub-villages. I have Bachelor Degree certificate in the Faculty of Social and Political Sciences with the major of International Relation. I provide interpretation at weekly and annual business meetings, seminar, conference, workshop and training from Indonesian into English, and reverse interpretation in areas of organization, telecommunication, government institution, hard equipment, banking, mills, paper, rights, gender, education, religious meeting, SDGs and digital.
Interpretation specialization:
Banking | Education, training and pedagogics | Governance and management | Industrial production | Marketing, market research | Mass media, journalism | Oil and gas | State, policy | Telecommunications | Tourism and travel | International relations and organizations
Interpretation language pairs:
Indonesian - English | English - Indonesian
Services are available for order, January 10 (10:00 - 18:00): Change date, time?
Price*
for 8 hours

Order

Interpreter at negotiations

Free cancelation

Discount -29 %

183.0 EUR

order now

Booking date and time: January 10 (10:00 - 18:00)

Interpreter at negotiations in Jakarta

Languages: Indonesian - English

Price: 183.0 EUR

Interpreter at a seminar or conference

Free cancelation

Discount -25 %

219.0 EUR

order now

Booking date and time: January 10 (10:00 - 18:00)

Interpreter at a seminar or conference in Jakarta

Languages: Indonesian - English

Price: 219.0 EUR

Professional translation

GET QUOTE
*Order price for chosen time, with discounts
How to order interpreter in Jakarta:
- click "Order now" opposite to the chosen service
- use a credit card or receive an invoice for payment to place the order. Also you can choose option of cash payment the interpreter.
- receive order confirmation and the Voucher with data for contact with the interpreter