Indonesia, Jakarta
Chosen period: from 10:00 to 18:00 - January 10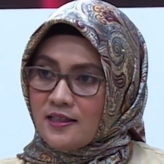 Neny Suci
Professional interpreter in Jakarta
Send a preliminary request to the interpreter or book now the chosen date and time by means of the "Order now" button opposite to services below.
Hi, It is a pleasure to support you with an interpreting service in the area of Environment , Education and Training, as well as general subjects.
I started as an in-house translator and interpreter in a consulting company and then I found a passion in the job before I decided as a full-time freelancer like now. I feel awarded when the questions raised by participants are many in the event/conference where I become an interpreter. Even though most of the topics I engaged with related to environment, I am open to more subjects.
Interpretation specialization:
Education, training and pedagogics | General interest subjects | Ecology and environmental protection
Interpretation language pairs:
Indonesian - English | English - Indonesian
Services are available for order, January 10 (10:00 - 18:00): Change date, time?
Price*
for 8 hours

Order

Interview interpreter

169.0 EUR

order now

Booking date and time: January 10 (10:00 - 18:00)

Interview interpreter in Jakarta

Languages: Indonesian - English

Price: 169.0 EUR

Interpreter at negotiations

169.0 EUR

order now

Booking date and time: January 10 (10:00 - 18:00)

Interpreter at negotiations in Jakarta

Languages: Indonesian - English

Price: 169.0 EUR

Interpreter at a seminar or conference

183.0 EUR

order now

Booking date and time: January 10 (10:00 - 18:00)

Interpreter at a seminar or conference in Jakarta

Languages: Indonesian - English

Price: 183.0 EUR

Phone interpreter

183.0 EUR

order now

Booking date and time: January 10 (10:00 - 18:00)

Phone interpreter in Jakarta

Languages: Indonesian - English

Price: 183.0 EUR

Interpreter at presentation

197.0 EUR

order now

Booking date and time: January 10 (10:00 - 18:00)

Interpreter at presentation in Jakarta

Languages: Indonesian - English

Price: 197.0 EUR

Professional translation

GET QUOTE
*Order price for chosen time, with discounts
How to order interpreter in Jakarta:
- click "Order now" opposite to the chosen service
- use a credit card or receive an invoice for payment to place the order. Also you can choose option of cash payment the interpreter.
- receive order confirmation and the Voucher with data for contact with the interpreter