Indonesia, Jakarta
Chosen period: from 10:00 to 18:00 - January 10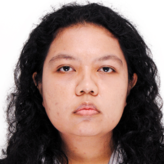 Julia
Professional interpreter in Jakarta
Response rate:

80%
Average response time:

Within an hour
Send a preliminary request to the interpreter or book now the chosen date and time by means of the "Order now" button opposite to services below.
I worked as an in-house translator-interpreter for a global business consulting company from April 2013 to August 2015 prior to becoming a freelancer, with language pair of Indonesian vv English. My scope mainly covered banking and oil & gas.
I graduated with a degree in International Relations started my professional work as an interpreter and translator in a business consulting company for 2+ years, before working as freelancer up until now. I work with Indonesian vv English language pair, and currently still learning Italian (on B2 level) and some other languages (still at beginner level). I am also a member of HPI (Association of Indonesian Translators). Most of the time I work independently as interpreter, but occasionally I also got request from translation agencies for documents.
Interpretation specialization:
Banking | General interest subjects | International relations and organizations | Oil and gas
Interpretation language pairs:
Indonesian - English | English - Indonesian
Services are available for order, January 10 (10:00 - 18:00): Change date, time?
Price*
for 8 hours

Order

Interpreter at a seminar or conference

Additional services

Free cancelation

293.0 EUR

order now

Booking date and time: January 10 (10:00 - 18:00)

Interpreter at a seminar or conference in Jakarta

Languages: Indonesian - English

Price: 293.0 EUR

Interpreter at negotiations

Additional services

Free cancelation

293.0 EUR

order now

Booking date and time: January 10 (10:00 - 18:00)

Interpreter at negotiations in Jakarta

Languages: Indonesian - English

Price: 293.0 EUR

Escort of individuals

Free cancelation

Discount -38 %

183.0 EUR

order now

Booking date and time: January 10 (10:00 - 18:00)

Escort of individuals in Jakarta

Languages: Indonesian - English

Price: 183.0 EUR

Phone interpreter

293.0 EUR

order now

Booking date and time: January 10 (10:00 - 18:00)

Phone interpreter in Jakarta

Languages: Indonesian - English

Price: 293.0 EUR

Professional translation

GET QUOTE
*Order price for chosen time, with discounts
How to order interpreter in Jakarta:
- click "Order now" opposite to the chosen service
- use a credit card or receive an invoice for payment to place the order. Also you can choose option of cash payment the interpreter.
- receive order confirmation and the Voucher with data for contact with the interpreter