Indonesia, Jakarta
Chosen period: from 10:00 to 18:00 - January 10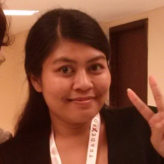 Dian
Professional interpreter in Jakarta
Send a preliminary request to the interpreter or book now the chosen date and time by means of the "Order now" button opposite to services below.
Indonesian-korean freelance interpreter in Jakarta (Indonesia)
Dian was born in Purwokerto on December 21th 1989. I was accepted as an bachelor degree student in Korean Language and Culture Major at University of Indonesia in 2009. While study at university, I was actived in many organization and various activities. Although lot of activities, I was listed on the top students, with good GPA of 3.51/4.00. I am fast learner, have good communication skill and broad interpersonal relationship. I could work both individually and team. Liked to learn new things and challenges. I had a good enthusiasm and high motivation, willing to cooperate with others, accelerate to learn, and need to produce best quality result. 2012 – Present Freelance Korean Interpreter and Guide for Korean Tourist or Expatriate in Jakarta (Jabodetabek) and Bandung, West Java. 2012 Marketing Sales (Freelance) at CV. Intan Production in Bali, Indonesia. 2011 – Present Freelance Bahasa Private Teacher. Tutoring Indonesian Language for Foreigner (Korean and Japanese) at Depok and Jakarta. 2010 – Present Freelance Korean Private Teacher for Indonesian at Depok and Jakarta.
Interpretation specialization:
General interest subjects | International relations and organizations | Medicine (as a whole) | Education, training and pedagogics
Interpretation language pairs:
English - Indonesian | Indonesian - English | Indonesian - Korean | Korean - Indonesian
Services are available for order, January 10 (10:00 - 18:00): Change date, time?
Price*
for 8 hours

Order

Interpreter at negotiations

Free cancelation

Discount -16 %

208.0 EUR

order now

Booking date and time: January 10 (10:00 - 18:00)

Interpreter at negotiations in Jakarta

Languages: Indonesian - English

Price: 208.0 EUR

Phone interpreter

272.0 EUR

order now

Booking date and time: January 10 (10:00 - 18:00)

Phone interpreter in Jakarta

Languages: Indonesian - English

Price: 272.0 EUR

Interpreter at a seminar or conference

296.0 EUR

order now

Booking date and time: January 10 (10:00 - 18:00)

Interpreter at a seminar or conference in Jakarta

Languages: Indonesian - English

Price: 296.0 EUR

Professional translation

GET QUOTE
*Order price for chosen time, with discounts
How to order interpreter in Jakarta:
- click "Order now" opposite to the chosen service
- use a credit card or receive an invoice for payment to place the order. Also you can choose option of cash payment the interpreter.
- receive order confirmation and the Voucher with data for contact with the interpreter