Turkey, Istanbul
Chosen period: from 10:00 to 18:00 - December 13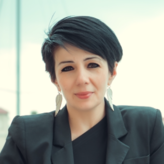 Nadezhda
Professional interpreter in Istanbul
Response rate:

84%
Average response time:

Within a few hours
Send a preliminary request to the interpreter or book now the chosen date and time by means of the "Order now" button opposite to services below.
I am a certified experienced translator ( more then 20 years exp.) Can do oral and written translation. Have an experience of working as a personal assistant and a translator for biggest international companies . Easy to work with . I am a diligent professional performing my work with integrity and concern of people.
Education Educational institution: Far Eastern Pedagogical Humanitarian University (2 years) Department: Philological Profession: Philologist Educational institution: Christian Vocational College Department: Teaching English as a Second Language Department: Foreign Language – English Department: Russian – English and English – Russian Oral and Written Translations Courses Course title: Theoretical and practical course of floristics Educational institution: " Erudit" Practical courses Course title: Office manager Educational institution: Vocational courses "Knowledge" Foreign languages and computer skills: English – fluent Turkish – basic knowledge Advanced computer user (Word, Excel, 1C) The most important achievements and skills: Have an experience of teaching English to adults and children with different levels of knowledge Fluent English ( Living and working with native speakers helped to improve my pronunciation, writing and speaking skills) Ambivert , I like people and easily find a common ground with them. Graduated a course of business etiquette. Have an experience of working with people of different backgrounds and cultures. Have worked as a personal assistant in foreign company Graduated a course of office work, book keeping . Have a skill of touch typing Without bad habits Have an experience of managing privet business, which helped me to enhance my organizational qualities. Creative approach is my credo. Have an artistic style. Best regards, Nadejda , diligent professional performing my work with integrity and concern of people.
Interpretation specialization:
Aircraft and astronautics | Tourism and travel
Interpretation language pairs:
English - Turkish | Turkish - English | Turkish - Russian | Russian - Turkish | English - Russian | Russian - English
Services are available for order, December 13 (10:00 - 18:00): Change date, time?
Price*
for 8 hours

Order

Escort of delegations

120.0 EUR

order now

Booking date and time: December 13 (10:00 - 18:00)

Escort of delegations in Istanbul

Languages: Turkish - English

Price: 120.0 EUR

Interpreter at an exhibition

130.0 EUR

order now

Booking date and time: December 13 (10:00 - 18:00)

Interpreter at an exhibition in Istanbul

Languages: Turkish - English

Price: 130.0 EUR

Interpreter at a seminar or conference

133.6 EUR

order now

Booking date and time: December 13 (10:00 - 18:00)

Interpreter at a seminar or conference in Istanbul

Languages: Turkish - English

Price: 133.6 EUR

Interpreter at an exhibition

Free cancelation

Discount -19 %

130.0 EUR

order now

Booking date and time: December 13 (10:00 - 18:00)

Interpreter at an exhibition in Istanbul

Languages: Turkish - English

Price: 130.0 EUR

Interpreter at an exhibition

Free cancelation

Discount -25 %

150.0 EUR

order now

Booking date and time: December 13 (10:00 - 18:00)

Interpreter at an exhibition in Istanbul

Languages: Turkish - English

Price: 150.0 EUR

Interpreter in a clinic

Free cancelation

Discount -50 %

100.0 EUR

order now

Booking date and time: December 13 (10:00 - 18:00)

Interpreter in a clinic in Istanbul

Languages: Turkish - English

Price: 100.0 EUR

Interpreter at an exhibition

Free cancelation

Discount -38 %

150.0 EUR

order now

Booking date and time: December 13 (10:00 - 18:00)

Interpreter at an exhibition in Istanbul

Languages: Turkish - English

Price: 150.0 EUR

Interpreter at negotiations

Free cancelation

Discount -58 %

100.0 EUR

order now

Booking date and time: December 13 (10:00 - 18:00)

Interpreter at negotiations in Istanbul

Languages: Turkish - English

Price: 100.0 EUR

Interpreter at an exhibition

Free cancelation

Discount -50 %

120.0 EUR

order now

Booking date and time: December 13 (10:00 - 18:00)

Interpreter at an exhibition in Istanbul

Languages: Turkish - English

Price: 120.0 EUR

Interpreter at negotiations

Free cancelation

Discount -46 %

150.0 EUR

order now

Booking date and time: December 13 (10:00 - 18:00)

Interpreter at negotiations in Istanbul

Languages: Turkish - English

Price: 150.0 EUR

Interpreter at negotiations

Free cancelation

Discount -42 %

208.0 EUR

order now

Booking date and time: December 13 (10:00 - 18:00)

Interpreter at negotiations in Istanbul

Languages: Turkish - English

Price: 208.0 EUR

Interpretation of excursions, tour guide services

360.0 EUR

order now

Booking date and time: December 13 (10:00 - 18:00)

Interpretation of excursions, tour guide services in Istanbul

Languages: Turkish - English

Price: 360.0 EUR

Interpreter at negotiations

Free cancelation

Discount -68 %

130.0 EUR

order now

Booking date and time: December 13 (10:00 - 18:00)

Interpreter at negotiations in Istanbul

Languages: Turkish - English

Price: 130.0 EUR

Interpreter at negotiations

Free cancelation

Discount -54 %

240.0 EUR

order now

Booking date and time: December 13 (10:00 - 18:00)

Interpreter at negotiations in Istanbul

Languages: Turkish - English

Price: 240.0 EUR

Interpreter at negotiations

Free cancelation

Discount -75 %

200.0 EUR

order now

Booking date and time: December 13 (10:00 - 18:00)

Interpreter at negotiations in Istanbul

Languages: Turkish - English

Price: 200.0 EUR

Phone interpreter

Free cancelation

Discount -23 %

800.0 EUR

order now

Booking date and time: December 13 (10:00 - 18:00)

Phone interpreter in Istanbul

Languages: Turkish - English

Price: 800.0 EUR

Professional translation

GET QUOTE
*Order price for chosen time, with discounts
How to order interpreter in Istanbul:
- click "Order now" opposite to the chosen service
- use a credit card or receive an invoice for payment to place the order. Also you can choose option of cash payment the interpreter.
- receive order confirmation and the Voucher with data for contact with the interpreter