Turkey, Istanbul
Chosen period: from 10:00 to 18:00 - February 11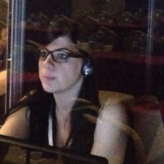 Cansu
Professional interpreter in Istanbul
Response rate:

83%
Average response time:

Within a few hours
Send a preliminary request to the interpreter or book now the chosen date and time by means of the "Order now" button opposite to services below.
4 years of interpreting services in conferences, trainings, symposiums, board meetings and congresses. Freelance interpreter/translator based in Istanbul, free to travel. Professional experience in specifically market research, marketing, retail. I also have considerable experience of interpretation in medical fields.
I am a freelance interpreter and translator, based in Istanbul, working with English/Turkish language pair. I graduated from Yeditepe University Translation Studies and Advertising & Communication Design BA programs with high honors. I also studied Systems Engineering for a while; although I have not finished the degree, it contributes greatly to the technical work I do. I'm currently working on my dissertation for my MA degree in Public Relations. I provide interpreting services for conferences, trainings, symposiums, meetings, seminars, exhibitions and so forth. I travel to surrounding cities and different countries for meetings, if need be.
Interpretation specialization:
Cosmetics, perfumery, fashion | Education, training and pedagogics | Marketing, market research | Mass media, journalism | Medicine (as a whole) | Music and theater | Natural sciences (as a whole) | Retail trade (generally) | Sports and sports equipment | Advertizing and PR
Interpretation language pairs:
English - Turkish | Turkish - English
Services are available for order, February 11 (10:00 - 18:00): Change date, time?
Price*
for 8 hours

Order

Interview interpreter

Free cancelation

Discount -7 %

54.0 EUR

order now

Booking date and time: February 11 (10:00 - 18:00)

Interview interpreter in Istanbul

Languages: Turkish - English

Price: 54.0 EUR

Interpreter in a clinic

Free cancelation

Discount -10 %

54.0 EUR

order now

Booking date and time: February 11 (10:00 - 18:00)

Interpreter in a clinic in Istanbul

Languages: Turkish - English

Price: 54.0 EUR

Interpreter at an exhibition

Free cancelation

Discount -3 %

58.0 EUR

order now

Booking date and time: February 11 (10:00 - 18:00)

Interpreter at an exhibition in Istanbul

Languages: Turkish - English

Price: 58.0 EUR

Interpreter at presentation

Free cancelation

Discount -10 %

54.0 EUR

order now

Booking date and time: February 11 (10:00 - 18:00)

Interpreter at presentation in Istanbul

Languages: Turkish - English

Price: 54.0 EUR

Interpreter at a seminar or conference

78.0 EUR

order now

Booking date and time: February 11 (10:00 - 18:00)

Interpreter at a seminar or conference in Istanbul

Languages: Turkish - English

Price: 78.0 EUR

Phone interpreter

103.0 EUR

order now

Booking date and time: February 11 (10:00 - 18:00)

Phone interpreter in Istanbul

Languages: Turkish - English

Price: 103.0 EUR

Judicial interpreter

106.0 EUR

order now

Booking date and time: February 11 (10:00 - 18:00)

Judicial interpreter in Istanbul

Languages: Turkish - English

Price: 106.0 EUR

Interpreter at negotiations

Free cancelation

Discount -25 %

87.0 EUR

order now

Booking date and time: February 11 (10:00 - 18:00)

Interpreter at negotiations in Istanbul

Languages: Turkish - English

Price: 87.0 EUR

Escort of individuals

Free cancelation

Discount -17 %

97.0 EUR

order now

Booking date and time: February 11 (10:00 - 18:00)

Escort of individuals in Istanbul

Languages: Turkish - English

Price: 97.0 EUR

Interpreter at celebrations

Free cancelation

Discount -50 %

58.0 EUR

order now

Booking date and time: February 11 (10:00 - 18:00)

Interpreter at celebrations in Istanbul

Languages: Turkish - English

Price: 58.0 EUR

Interpreter at negotiations

Free cancelation

Discount -25 %

87.0 EUR

order now

Booking date and time: February 11 (10:00 - 18:00)

Interpreter at negotiations in Istanbul

Languages: Turkish - English

Price: 87.0 EUR

Professional translation

GET QUOTE
*Order price for chosen time, with discounts
How to order interpreter in Istanbul:
- click "Order now" opposite to the chosen service
- use a credit card or receive an invoice for payment to place the order. Also you can choose option of cash payment the interpreter.
- receive order confirmation and the Voucher with data for contact with the interpreter