Germany, Hof
Chosen period: from 10:00 to 18:00 - January 3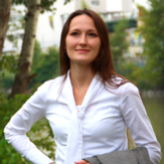 Olga
Professional interpreter in Hof
Response rate:

97%
Average response time:

Within a few hours
Send a preliminary request to the interpreter or book now the chosen date and time by means of the "Order now" button opposite to services below.
Your expert interpreter for Russian language in Germany, Austria, and Czech Republic. Interpretation in other countries/cities upon request. 15 years of experience in large construction and production facilities. Interpretation services at meetings, business negotiations, expos, conferences and seminars.
Professional and experienced interpreter for your events. Broad areas of practice: whether buisness, finance, accounting, biochemistry, construction or armament - you may rely on quality and accuracy. Booth or whispering interpretation. May arrange interpretation equipment if required.
Interpretation specialization:
Architecture, interior design | Biology (biotechnics, biochemistry, microbiology) | Economy | Equipment and technologies (as a whole) | Finance and credit | Insurance | Law: contracts | Mechanical engineering | Process automation systems | Construction, construction equipment
Interpretation language pairs:
Russian - French | French - Russian | German - Russian | Russian - German | English - Russian | Russian - English
Services are available for order, January 3 (10:00 - 18:00): Change date, time?
Price*
for 8 hours

Order

Interview interpreter

800.0 EUR

order now

Booking date and time: January 3 (10:00 - 18:00)

Interview interpreter in Hof

Languages: German - Russian

Price: 800.0 EUR

Professional translation

GET QUOTE
*Order price for chosen time, with discounts
How to order interpreter in Hof:
- click "Order now" opposite to the chosen service
- use a credit card or receive an invoice for payment to place the order. Also you can choose option of cash payment the interpreter.
- receive order confirmation and the Voucher with data for contact with the interpreter