Italy, Como
Chosen period: from 10:00 to 18:00 - January 10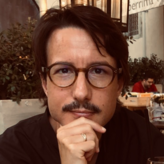 Bruno
Professional interpreter in Como
Response rate:

46%
Average response time:

Within an hour
Send a preliminary request to the interpreter or book now the chosen date and time by means of the "Order now" button opposite to services below.
I am a reliable language expert with an Honours degree from one of the most prestigious Translation and Interpreting schools in Europe (SSLMIT Trieste).
Born and raised in a multilingual environment, I have travelled and lived in various countries, acquiring excellent command not only of the languages I work with but also of their respective cultural contexts. This allows me to provide interpretation services which produce the desired pragmatic value in the target culture.
Interpretation specialization:
Advertizing and PR | Insurance | Marketing, market research
Interpretation language pairs:
Slovenian - Italian | Italian - Slovenian | Croatian - English | English - Croatian | Russian - Slovenian | Russian - English | English - Italian | Italian - English | English - Slovenian | Slovenian - English
Services are available for order, January 10 (10:00 - 18:00): Change date, time?
Price*
for 8 hours

Order

Escort of individuals

400.0 EUR

order now

Booking date and time: January 10 (10:00 - 18:00)

Escort of individuals in Como

Languages: Italian - English

Price: 400.0 EUR

Phone interpreter

Free cancelation

Discount -10 %

360.0 EUR

order now

Booking date and time: January 10 (10:00 - 18:00)

Phone interpreter in Como

Languages: Italian - English

Price: 360.0 EUR

Escort of delegations

400.0 EUR

order now

Booking date and time: January 10 (10:00 - 18:00)

Escort of delegations in Como

Languages: Italian - English

Price: 400.0 EUR

Interpretation of excursions, tour guide services

400.0 EUR

order now

Booking date and time: January 10 (10:00 - 18:00)

Interpretation of excursions, tour guide services in Como

Languages: Italian - English

Price: 400.0 EUR

Interview interpreter

400.0 EUR

order now

Booking date and time: January 10 (10:00 - 18:00)

Interview interpreter in Como

Languages: Italian - English

Price: 400.0 EUR

Interpreter at negotiations

Free cancelation

Discount -7 %

520.0 EUR

order now

Booking date and time: January 10 (10:00 - 18:00)

Interpreter at negotiations in Como

Languages: Italian - English

Price: 520.0 EUR

Interpreter at a seminar or conference

720.0 EUR

order now

Booking date and time: January 10 (10:00 - 18:00)

Interpreter at a seminar or conference in Como

Languages: Italian - English

Price: 720.0 EUR

Interpreter of press conferences

720.0 EUR

order now

Booking date and time: January 10 (10:00 - 18:00)

Interpreter of press conferences in Como

Languages: Italian - English

Price: 720.0 EUR

Interpreter at presentation

720.0 EUR

order now

Booking date and time: January 10 (10:00 - 18:00)

Interpreter at presentation in Como

Languages: Italian - English

Price: 720.0 EUR

Interpreter at an exhibition

720.0 EUR

order now

Booking date and time: January 10 (10:00 - 18:00)

Interpreter at an exhibition in Como

Languages: Italian - English

Price: 720.0 EUR

Professional translation

GET QUOTE
*Order price for chosen time, with discounts
How to order interpreter in Como:
- click "Order now" opposite to the chosen service
- use a credit card or receive an invoice for payment to place the order. Also you can choose option of cash payment the interpreter.
- receive order confirmation and the Voucher with data for contact with the interpreter