Italy, Como
Chosen period: from 10:00 to 18:00 - January 10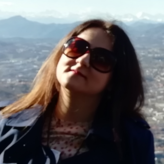 Vitalina
Professional interpreter in Como
Response rate:

100%
Average response time:

Within a few hours
Send a preliminary request to the interpreter or book now the chosen date and time by means of the "Order now" button opposite to services below.
I am a translator and an interpretor. I work at high school and at international companies as a teacher in foreign languages. Sometimes I translate at the court in Como. I always work with foreign people. I have lived in different foreign countries that's why I am very open and cosmopolitan. You're welcome!
I have studied foreign languages at different universities in Chernivtsy, Como, Milan, the Usa. My major are foreign languages: English, French, Russian, international relationship. I have worked at high school for 10 years, I have translated a lot of articles for newspapers and magazines, some documents, contracts etc. I am a President at Cultural Assossiation Cosmopolita in Varese where we organise some language courses for kids and adults. I travel a lot, I am keen in getting acquantaince with some new people, culture.
Interpretation specialization:
Accounting | Advertizing and PR | Agriculture | Art, crafts, painting | Cinema and television | Computers and Internet (as a whole) | History | Psychology and psychiatry
Interpretation language pairs:
Italian - English | English - Italian | French - Italian | Italian - French | French - Russian | Russian - French | English - Russian | Russian - English | Ukrainian - Italian | Italian - Ukrainian | Russian - Italian | Italian - Russian
Services are available for order, January 10 (10:00 - 18:00): Change date, time?
Price*
for 8 hours

Order

Interview interpreter

Additional services

Free cancelation

Discount -27 %

346.0 EUR

order now

Booking date and time: January 10 (10:00 - 18:00)

Interview interpreter in Como

Languages: Italian - English

Price: 346.0 EUR

Interpreter at negotiations

628.0 EUR

order now

Booking date and time: January 10 (10:00 - 18:00)

Interpreter at negotiations in Como

Languages: Italian - English

Price: 628.0 EUR

Professional translation

GET QUOTE
*Order price for chosen time, with discounts
How to order interpreter in Como:
- click "Order now" opposite to the chosen service
- use a credit card or receive an invoice for payment to place the order. Also you can choose option of cash payment the interpreter.
- receive order confirmation and the Voucher with data for contact with the interpreter