Italy, Como
Chosen period: from 10:00 to 18:00 - January 10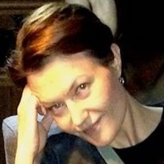 Marina
Professional interpreter in Como
Response rate:

100%
Average response time:

Within an hour
Send a preliminary request to the interpreter or book now the chosen date and time by means of the "Order now" button opposite to services below.
Diploma in linguistics. Diploma in international marketing. Vast experience of interpeting for companies operating in various business sectors and manufacturing fields. Visits to productions, fairs, professional events. Ability to communicate at any level, politeness, calm and positive attitude.
I always strive not only to translate what has been said, but to understand what kind of objectives my clients are pursuing during each meeting and to help them achieve the result.
Interpretation specialization:
Advertizing and PR | Architecture, interior design | Customs affairs | Industrial production | International relations and organizations | Marketing, market research | Textile industry | Trade (as a whole) | Commerce (as a whole)
Interpretation language pairs:
Italian - Russian | Russian - Italian | English - Russian | Russian - English | Italian - English | English - Italian
Services are available for order, January 10 (10:00 - 18:00): Change date, time?
Price*
for 8 hours

Order

Interpreter at negotiations

Free cancelation

Discount -20 %

320.0 EUR

order now

Booking date and time: January 10 (10:00 - 18:00)

Interpreter at negotiations in Como

Languages: Italian - English

Price: 320.0 EUR

Interview interpreter

Free cancelation

Discount -20 %

320.0 EUR

order now

Booking date and time: January 10 (10:00 - 18:00)

Interview interpreter in Como

Languages: Italian - English

Price: 320.0 EUR

Interpreter at an exhibition

Free cancelation

Discount -20 %

320.0 EUR

order now

Booking date and time: January 10 (10:00 - 18:00)

Interpreter at an exhibition in Como

Languages: Italian - English

Price: 320.0 EUR

Interpreter at presentation

Free cancelation

Discount -20 %

320.0 EUR

order now

Booking date and time: January 10 (10:00 - 18:00)

Interpreter at presentation in Como

Languages: Italian - English

Price: 320.0 EUR

Escort of delegations

Free cancelation

Discount -17 %

400.0 EUR

order now

Booking date and time: January 10 (10:00 - 18:00)

Escort of delegations in Como

Languages: Italian - English

Price: 400.0 EUR

Professional translation

GET QUOTE
*Order price for chosen time, with discounts
How to order interpreter in Como:
- click "Order now" opposite to the chosen service
- use a credit card or receive an invoice for payment to place the order. Also you can choose option of cash payment the interpreter.
- receive order confirmation and the Voucher with data for contact with the interpreter