Italy, Como
Chosen period: from 10:00 to 18:00 - January 10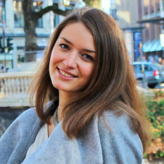 Elena
Professional interpreter in Como
Response rate:

9%
Average response time:

Within an hour
Send a preliminary request to the interpreter or book now the chosen date and time by means of the "Order now" button opposite to services below.
Freelance interpreter and translator based in Milan. English, Italian and Russian languages.
I've been living in Italy since 2010 and I've been working as a freelance interpreter and translator at different exhibitions, congresses, conferences and other events, as well as during business meetings and negotiations. I have also experience in accompanying private visitors (shopping tours, medical treatment).
Interpretation specialization:
Architecture, interior design | Commerce (as a whole) | Cosmetics, perfumery, fashion | Education, training and pedagogics | Industrial production | Law (as a whole) | Marketing, market research | Retail trade (generally) | Tourism and travel | Trade (as a whole) | Advertizing and PR
Interpretation language pairs:
Russian - English | English - Russian | Italian - English | English - Italian | Italian - Russian | Russian - Italian
Services are available for order, January 10 (10:00 - 18:00): Change date, time?
Price*
for 8 hours

Order

Interpretation of excursions, tour guide services

Free cancelation

Discount -15 %

169.0 EUR

order now

Booking date and time: January 10 (10:00 - 18:00)

Interpretation of excursions, tour guide services in Como

Languages: Italian - English

Price: 169.0 EUR

Interview interpreter

Free cancelation

Discount -17 %

183.0 EUR

order now

Booking date and time: January 10 (10:00 - 18:00)

Interview interpreter in Como

Languages: Italian - English

Price: 183.0 EUR

Interpreter at a seminar or conference

Free cancelation

Discount -10 %

197.0 EUR

order now

Booking date and time: January 10 (10:00 - 18:00)

Interpreter at a seminar or conference in Como

Languages: Italian - English

Price: 197.0 EUR

Interpreter at presentation

Free cancelation

Discount -17 %

183.0 EUR

order now

Booking date and time: January 10 (10:00 - 18:00)

Interpreter at presentation in Como

Languages: Italian - English

Price: 183.0 EUR

Interpreter of press conferences

Free cancelation

Discount -14 %

219.0 EUR

order now

Booking date and time: January 10 (10:00 - 18:00)

Interpreter of press conferences in Como

Languages: Italian - English

Price: 219.0 EUR

Interpretation of excursions, tour guide services

Free cancelation

Discount -9 %

234.0 EUR

order now

Booking date and time: January 10 (10:00 - 18:00)

Interpretation of excursions, tour guide services in Como

Languages: Italian - English

Price: 234.0 EUR

Interpreter at negotiations

Free cancelation

Discount -14 %

219.0 EUR

order now

Booking date and time: January 10 (10:00 - 18:00)

Interpreter at negotiations in Como

Languages: Italian - English

Price: 219.0 EUR

Interpreter at presentation

Free cancelation

Discount -13 %

256.0 EUR

order now

Booking date and time: January 10 (10:00 - 18:00)

Interpreter at presentation in Como

Languages: Italian - English

Price: 256.0 EUR

Interpreter at a seminar or conference

Free cancelation

Discount -10 %

264.0 EUR

order now

Booking date and time: January 10 (10:00 - 18:00)

Interpreter at a seminar or conference in Como

Languages: Italian - English

Price: 264.0 EUR

Interpreter at negotiations

Free cancelation

Discount -11 %

293.0 EUR

order now

Booking date and time: January 10 (10:00 - 18:00)

Interpreter at negotiations in Como

Languages: Italian - English

Price: 293.0 EUR

Professional translation

GET QUOTE
*Order price for chosen time, with discounts
How to order interpreter in Como:
- click "Order now" opposite to the chosen service
- use a credit card or receive an invoice for payment to place the order. Also you can choose option of cash payment the interpreter.
- receive order confirmation and the Voucher with data for contact with the interpreter