Italy, Bari
Chosen period: from 10:00 to 18:00 - January 10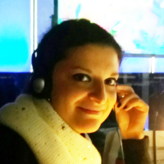 Alessandra
Professional interpreter in Bari
Response rate:

100%
Average response time:

Within a few hours
Send a preliminary request to the interpreter or book now the chosen date and time by means of the "Order now" button opposite to services below.
I am a conference interpreter in Rome with the following language combinations: English > Italian > English, German > Italian > German, French > Italian. I work as a freelancer and carry out the following services: simultaneous interpreting, consecutive interpreting, liaison/business interpreting.
In 2007 I got a BA Degree with honours in Linguistic and Cultural Mediation Sciences and in 2010 a MA Specialist Degree with honours in Conference Interpreting. I have studied and worked mostly in Italy and I have improved the conference interpreting techniques in Munich at the "Sprachen&Dolmetscher Institut" interpreting school. Since 2010 I have worked as an interpreter, translator, transcriber, tour guide and language teacher for various clients: private individuals, companies, interpreting and translation agencies, academies, educational centres, international trade fairs, public bodies, cooperatives, organisations, cultural associations and religious congregations.
Interpretation specialization:
Agriculture | Commerce (as a whole) | Ecology and environmental protection | Economy | General interest subjects | Law (as a whole) | Power and energy saving | Religion, mythology, esoterics | Social sciences, sociology, ethics, etc. | State, policy | International relations and organizations
Interpretation language pairs:
French - Italian | German - Italian | Italian - German | English - Italian | Italian - English
Services are available for order, January 10 (10:00 - 18:00): Change date, time?
Price*
for 8 hours

Order

Interpreter at negotiations

Free cancelation

Discount -38 %

400.0 EUR

order now

Booking date and time: January 10 (10:00 - 18:00)

Interpreter at negotiations in Bari

Languages: Italian - English

Price: 400.0 EUR

Interpreter at negotiations

Free cancelation

Discount -40 %

622.24 EUR

order now

Booking date and time: January 10 (10:00 - 18:00)

Interpreter at negotiations in Bari

Languages: Italian - English

Price: 622.24 EUR

Professional translation

GET QUOTE
*Order price for chosen time, with discounts
How to order interpreter in Bari:
- click "Order now" opposite to the chosen service
- use a credit card or receive an invoice for payment to place the order. Also you can choose option of cash payment the interpreter.
- receive order confirmation and the Voucher with data for contact with the interpreter