India, Bangalore
Chosen period: from 10:00 to 18:00 - January 10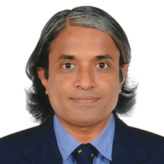 Prasanna
Professional interpreter in Bangalore
Response rate:

100%
Average response time:

Within an hour
Send a preliminary request to the interpreter or book now the chosen date and time by means of the "Order now" button opposite to services below.
Mechanical Engineer with additional qualifications in insurance. Close to 6 years of translation experience alongwith 2 years of interpretation experience. Total experience of 20 years in various domains including insurance, market research, publishing, manufacturing, electronics, communication, IT, media, and analytics.
We regularly handle translation assignments for IT organizations and manufacturing organizations as well as for publishers and various semi-government organizations and institutions. We also handle interpretation tasks across various domains and in various capacities such as in seminars, meetings, business discussions, travel and leisure trips, religious discourses, market research, industrial trainings, events where workers need to be trained and machineries need to be installed at organization premises, media events, and the like. I am a mechanical engineer with additional qualifications in insurance. I also have experience of working in various blue chip organizations and in running my own business. After having worked for 15 years in various IT companies, market research organizations, manufacturing concerns, an insurance organization, and having associations with various publishing houses during the last 20 years of my career.
Interpretation specialization:
Automotive industry | Banking | General interest subjects | Industrial production | Insurance | Marketing, market research | Computers: information technologies
Interpretation language pairs:
Hindi - English | English - Hindi | English - Kannada | Kannada - English
Services are available for order, January 10 (10:00 - 18:00): Change date, time?
Price*
for 8 hours

Order

Interpreter of press conferences

Additional services

Free cancelation

104.0 EUR

order now

Booking date and time: January 10 (10:00 - 18:00)

Interpreter of press conferences in Bangalore

Languages: Hindi - English

Price: 104.0 EUR

Escort of individuals

Additional services

Free cancelation

104.0 EUR

order now

Booking date and time: January 10 (10:00 - 18:00)

Escort of individuals in Bangalore

Languages: Hindi - English

Price: 104.0 EUR

Escort of delegations

Additional services

Free cancelation

104.0 EUR

order now

Booking date and time: January 10 (10:00 - 18:00)

Escort of delegations in Bangalore

Languages: Hindi - English

Price: 104.0 EUR

Interpreter at celebrations

Additional services

Free cancelation

104.0 EUR

order now

Booking date and time: January 10 (10:00 - 18:00)

Interpreter at celebrations in Bangalore

Languages: Hindi - English

Price: 104.0 EUR

Interpreter at a seminar or conference

Additional services

Free cancelation

Discount -17 %

104.0 EUR

order now

Booking date and time: January 10 (10:00 - 18:00)

Interpreter at a seminar or conference in Bangalore

Languages: Hindi - English

Price: 104.0 EUR

Phone interpreter

125.0 EUR

order now

Booking date and time: January 10 (10:00 - 18:00)

Phone interpreter in Bangalore

Languages: Hindi - English

Price: 125.0 EUR

Interpreter at presentation

Additional services

Free cancelation

Discount -17 %

104.0 EUR

order now

Booking date and time: January 10 (10:00 - 18:00)

Interpreter at presentation in Bangalore

Languages: Hindi - English

Price: 104.0 EUR

Interpreter at negotiations

Additional services

Free cancelation

Discount -33 %

84.0 EUR

order now

Booking date and time: January 10 (10:00 - 18:00)

Interpreter at negotiations in Bangalore

Languages: Hindi - English

Price: 84.0 EUR

Interpreter at an exhibition

Additional services

Free cancelation

Discount -14 %

125.0 EUR

order now

Booking date and time: January 10 (10:00 - 18:00)

Interpreter at an exhibition in Bangalore

Languages: Hindi - English

Price: 125.0 EUR

Interview interpreter

Additional services

Free cancelation

Discount -20 %

125.0 EUR

order now

Booking date and time: January 10 (10:00 - 18:00)

Interview interpreter in Bangalore

Languages: Hindi - English

Price: 125.0 EUR

Interpretation of excursions, tour guide services

Additional services

Free cancelation

Discount -20 %

125.0 EUR

order now

Booking date and time: January 10 (10:00 - 18:00)

Interpretation of excursions, tour guide services in Bangalore

Languages: Hindi - English

Price: 125.0 EUR

Professional translation

GET QUOTE
*Order price for chosen time, with discounts
How to order interpreter in Bangalore:
- click "Order now" opposite to the chosen service
- use a credit card or receive an invoice for payment to place the order. Also you can choose option of cash payment the interpreter.
- receive order confirmation and the Voucher with data for contact with the interpreter