India, Bangalore
Chosen period: from 10:00 to 18:00 - January 10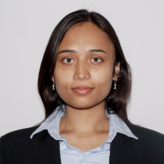 Urvashi
Professional interpreter in Bangalore
Send a preliminary request to the interpreter or book now the chosen date and time by means of the "Order now" button opposite to services below.
Interested in Interpretation and Translation for Hindi-English and vice versa.
MBA graduate in Finance, Possess exceptional analytical and Management Skills to make the business efficient and effective. Innovative and creative to impel the organization towards a result oriented direction. Driven by challenges and ability to adapt to all cultural as well as business environments. Would like to implement my knowledge and skills in a healthy atmosphere to get the best out of me.
Interpretation specialization:
Commerce (as a whole) | Governance and management | Finance and credit
Interpretation language pairs:
English - Hindi | Hindi - English
Services are available for order, January 10 (10:00 - 18:00): Change date, time?
Price*
for 8 hours

Order

Interpreter at negotiations

Free cancelation

Discount -13 %

102.0 EUR

order now

Booking date and time: January 10 (10:00 - 18:00)

Interpreter at negotiations in Bangalore

Languages: Hindi - English

Price: 102.0 EUR

Phone interpreter

117.0 EUR

order now

Booking date and time: January 10 (10:00 - 18:00)

Phone interpreter in Bangalore

Languages: Hindi - English

Price: 117.0 EUR

Professional translation

GET QUOTE
*Order price for chosen time, with discounts
How to order interpreter in Bangalore:
- click "Order now" opposite to the chosen service
- use a credit card or receive an invoice for payment to place the order. Also you can choose option of cash payment the interpreter.
- receive order confirmation and the Voucher with data for contact with the interpreter