Italy, Ancona
Chosen period: from 10:00 to 18:00 - January 10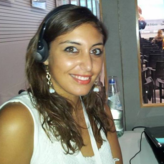 Elisa
Professional interpreter in Ancona
Response rate:

100%
Average response time:

Within an hour
Send a preliminary request to the interpreter or book now the chosen date and time by means of the "Order now" button opposite to services below.
Professional conference interpreter AITI Associate member Languages: Italian - English - French - Slovak Simultaneous, consecutive, whispering, business interpreting, in Italy and abroad.
I am a professional conference interpreter (English, French and Slovak <> Italian) and associate member of AITI (Associazione Italiana Traduttori e Interpreti). I have excellent skills in interpreting techniques (simultaneous, consecutive, whispering, business i.) and currently I work as conference and business interpreter during conferences, meetings and exhibitions both in Italy and abroad. I interpret also for institutional and regional bodies. Looking forward to interpreting for you!
Interpretation specialization:
Agriculture | Computers and Internet (as a whole) | Equipment and technologies (as a whole) | General interest subjects | International relations and organizations | Law (as a whole) | Mechanical engineering | Medicine (as a whole) | Oil and gas | Tourism and travel
Interpretation language pairs:
English - French | French - English | Slovak - Italian | French - Italian | Italian - French | English - Italian | Italian - English
Services are available for order, January 10 (10:00 - 18:00): Change date, time?
Price*
for 8 hours

Order

Phone interpreter

264.0 EUR

order now

Booking date and time: January 10 (10:00 - 18:00)

Phone interpreter in Ancona

Languages: Italian - English

Price: 264.0 EUR

Interpreter at an exhibition

Free cancelation

Discount -15 %

264.0 EUR

order now

Booking date and time: January 10 (10:00 - 18:00)

Interpreter at an exhibition in Ancona

Languages: Italian - English

Price: 264.0 EUR

Interpreter at negotiations

Free cancelation

Discount -12 %

352.0 EUR

order now

Booking date and time: January 10 (10:00 - 18:00)

Interpreter at negotiations in Ancona

Languages: Italian - English

Price: 352.0 EUR

Interview interpreter

440.0 EUR

order now

Booking date and time: January 10 (10:00 - 18:00)

Interview interpreter in Ancona

Languages: Italian - English

Price: 440.0 EUR

Interpreter at celebrations

440.0 EUR

order now

Booking date and time: January 10 (10:00 - 18:00)

Interpreter at celebrations in Ancona

Languages: Italian - English

Price: 440.0 EUR

Interpreter at negotiations

440.0 EUR

order now

Booking date and time: January 10 (10:00 - 18:00)

Interpreter at negotiations in Ancona

Languages: Italian - English

Price: 440.0 EUR

Interpreter at a seminar or conference

Free cancelation

Discount -5 %

416.0 EUR

order now

Booking date and time: January 10 (10:00 - 18:00)

Interpreter at a seminar or conference in Ancona

Languages: Italian - English

Price: 416.0 EUR

Protocol interpreter

460.0 EUR

order now

Booking date and time: January 10 (10:00 - 18:00)

Protocol interpreter in Ancona

Languages: Italian - English

Price: 460.0 EUR

Interpreter at negotiations

Free cancelation

Discount -70 %

360.0 EUR

order now

Booking date and time: January 10 (10:00 - 18:00)

Interpreter at negotiations in Ancona

Languages: Italian - English

Price: 360.0 EUR

Professional translation

GET QUOTE
*Order price for chosen time, with discounts
How to order interpreter in Ancona:
- click "Order now" opposite to the chosen service
- use a credit card or receive an invoice for payment to place the order. Also you can choose option of cash payment the interpreter.
- receive order confirmation and the Voucher with data for contact with the interpreter