Turkey, Çanakkale
Chosen period: from 10:00 to 18:00 - December 24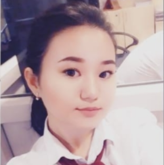 Nurgul
Professional interpreter in Çanakkale
Send a preliminary request to the interpreter or book now the chosen date and time by means of the "Order now" button opposite to services below.
Knowledgeable and experienced specialist able to work in multiple environments. Fluent in four languages with knowledge of cultural and regional varioations. Diverse translation work pf various materials and large-scale executive organization documents (written translation). Experience teaching english as a second language to children.
Experience in tourism as a receptionist in 5 star hotels. Currently looking for a job as an interpreter of english, russian and turkish languages in turkey. Can travel and work nationally and internationally.
Interpretation specialization:
Agriculture | Exchange, investments, securities | General interest subjects | International relations and organizations | Linguistics | Education, training and pedagogics
Interpretation language pairs:
Turkish - Russian | Russian - Turkish | Russian - English | English - Russian
Services are available for order, December 24 (10:00 - 18:00): Change date, time?
Price*
for 8 hours

Order

Interpreter at negotiations

9.0 EUR

order now

Booking date and time: December 24 (10:00 - 18:00)

Interpreter at negotiations in Çanakkale

Languages: Russian - English

Price: 9.0 EUR

Professional translation

GET QUOTE
*Order price for chosen time, with discounts
How to order interpreter in Çanakkale:
- click "Order now" opposite to the chosen service
- use a credit card or receive an invoice for payment to place the order. Also you can choose option of cash payment the interpreter.
- receive order confirmation and the Voucher with data for contact with the interpreter