Germany, Weiden
Chosen period: from 10:00 to 18:00 - January 28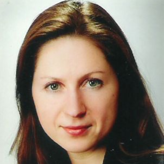 Irina
Professional interpreter in Weiden
Response rate:

98%
Average response time:

Within a few hours
Send a preliminary request to the interpreter or book now the chosen date and time by means of the "Order now" button opposite to services below.
I offer translator and interpreter services from 2005. Multilanguage interpreting and translation: Russian – German – English – French. If requested by customer I can undertake complete organisation of negotiations, visits to fairs and exhibitions and other business meetings and appointments in different countries.
Thanks to my studies of International Law (MGIMO-University) and 20 years of work in different commercial and management positions in international companies I have extensive experience in different fields like economy and finances, international relations, international and European law, private law, equipment and technology. As a result of large experience as negotiations partner I'm very good acquainted with negotiations psychology and methods and have good knowledge of multicultural communication. In the last 7 years I also offer interpreter services in medical sphere. Work is possible in any European town.
Interpretation specialization:
Economy | Equipment and technologies (as a whole) | Finance and credit | General interest subjects | History | International relations and organizations | Law (as a whole) | Medicine (as a whole) | Tourism and travel | Commerce (as a whole)
Interpretation language pairs:
German - French | French - German | English - French | French - English | English - German | German - English | Russian - French | French - Russian | Russian - German | German - Russian | Russian - English | English - Russian
Services are available for order, January 28 (10:00 - 18:00): Change date, time?
Price*
for 8 hours

Order

Escort of individuals

Free cancelation

Discount -69 %

296.0 EUR

order now

Booking date and time: January 28 (10:00 - 18:00)

Escort of individuals in Weiden

Languages: English - French

Price: 296.0 EUR

Professional translation

GET QUOTE
*Order price for chosen time, with discounts
How to order interpreter in Weiden:
- click "Order now" opposite to the chosen service
- use a credit card or receive an invoice for payment to place the order. Also you can choose option of cash payment the interpreter.
- receive order confirmation and the Voucher with data for contact with the interpreter