Ukraine, Uzhhorod
Chosen period: from 10:00 to 18:00 - January 31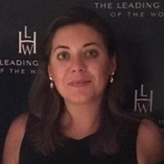 Tatyana
Professional interpreter in Uzhhorod
Response rate:

100%
Average response time:

Within an hour
Send a preliminary request to the interpreter or book now the chosen date and time by means of the "Order now" button opposite to services below.
Certified interpreter/translator + tour guide with over 10 years of work experience in Ukraine and abroad offering services of liaison and simultaneous translation in Odessa and all over Ukraine for individuals and groups, business support, tourist support, etc. Flexible, professional, culturally competent. Available for travel.
I`m a professional interpreter and translator, graduate of Department of Translation and Interpreting of Odessa National University, lived and worked in USA and Greece, permanently based in Odessa and available for business trips within Ukraine and internationally. During the first 6 years after graduation I worked at the Consulate General of Greece in Odessa and later on at mutinational consulting companies abroad. Since 2014 as a freelance interpreter/translator and tour guide I`ve been successfully cooperating with translation agencies and direct customers at a wide range of events e.g. personal meetings, business meetings, international trainings, conferences, cultural events, notary prodecures, etc. I do love my job, understand exactly the needs of my customer and therefore do my best to exceed his expectations. I`m well-travelled, outgoing, flexible and responsible, I`d be happy to facilitate your communication with your business partners, be your personal assistant in Ukraine or assist you at any other event that requres my qualifications and skills!
Interpretation specialization:
Cookery and food industry | General interest subjects | Seamanship, sea vessels | Tourism and travel | Trade (as a whole) | International relations and organizations
Interpretation language pairs:
Greek - Ukrainian | Ukrainian - Greek | Greek - English | English - Greek | English - Ukrainian | Ukrainian - English | Greek - Russian | Russian - Greek | English - Russian | Russian - English
Services are available for order, January 31 (10:00 - 18:00): Change date, time?
Price*
for 8 hours

Order

Interpreter at negotiations

Additional services

Free cancelation

160.0 EUR

order now

Booking date and time: January 31 (10:00 - 18:00)

Interpreter at negotiations in Uzhhorod

Languages: Greek - Ukrainian

Price: 160.0 EUR

Escort of delegations

Additional services

Free cancelation

160.0 EUR

order now

Booking date and time: January 31 (10:00 - 18:00)

Escort of delegations in Uzhhorod

Languages: Greek - Ukrainian

Price: 160.0 EUR

Professional translation

GET QUOTE
*Order price for chosen time, with discounts
How to order interpreter in Uzhhorod:
- click "Order now" opposite to the chosen service
- use a credit card or receive an invoice for payment to place the order. Also you can choose option of cash payment the interpreter.
- receive order confirmation and the Voucher with data for contact with the interpreter