Sweden, Trelleborg
Chosen period: from 10:00 to 18:00 - December 14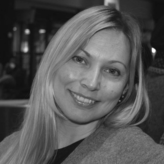 Saule
Professional interpreter in Trelleborg
Response rate:

68%
Average response time:

Within a few hours
Send a preliminary request to the interpreter or book now the chosen date and time by means of the "Order now" button opposite to services below.
Professional freelance interpreter and translator with over 10 years of experience. Working languages: English, Italian, Swedish and Lithuanian. Translation services at conferences, business meetings, seminars and exhibitions. Main fields of translation: travel, tourism, marketing, retail, fashion, design, healthcare, legal, food.
  I started my professional career in 1996 in Sweden, working as a freelance translator for law firms, courts, police, local councils, health services, on exhibitions, during international conferences, for both private and public clients. Native Lithuanian, I lived and worked in Sweden for 8 years and in Italy for 15 years. I am also fluent in Russian. I am based in Bologna and I work all over Italy, Sweden, Lithuania and other EU countries.   I have academic studies in languages and fashion design, and I am passionate about photography and food.  
Interpretation specialization:
Architecture, interior design | Commerce (as a whole) | Cookery and food industry | Cosmetics, perfumery, fashion | Education, training and pedagogics | Industrial production | Law (as a whole) | Retail trade (generally) | Textile industry | Tourism and travel | Trade (as a whole)
Interpretation language pairs:
Italian - Lithuanian | Lithuanian - Italian | Swedish - Lithuanian | Lithuanian - Swedish | English - Lithuanian | Lithuanian - English
Services are available for order, December 14 (10:00 - 18:00): Change date, time?
Price*
for 8 hours

Order

Phone interpreter

Free cancelation

Discount -5 %

280.0 EUR

order now

Booking date and time: December 14 (10:00 - 18:00)

Phone interpreter in Trelleborg

Languages: Swedish - Lithuanian

Price: 280.0 EUR

Judicial interpreter

Additional services

Free cancelation

552.0 EUR

order now

Booking date and time: December 14 (10:00 - 18:00)

Judicial interpreter in Trelleborg

Languages: Swedish - Lithuanian

Price: 552.0 EUR

Escort of delegations

Additional services

Free cancelation

552.0 EUR

order now

Booking date and time: December 14 (10:00 - 18:00)

Escort of delegations in Trelleborg

Languages: Swedish - Lithuanian

Price: 552.0 EUR

Interpreter at a seminar or conference

Additional services

Free cancelation

552.0 EUR

order now

Booking date and time: December 14 (10:00 - 18:00)

Interpreter at a seminar or conference in Trelleborg

Languages: Swedish - Lithuanian

Price: 552.0 EUR

Interpreter at an exhibition

Additional services

Free cancelation

552.0 EUR

order now

Booking date and time: December 14 (10:00 - 18:00)

Interpreter at an exhibition in Trelleborg

Languages: Swedish - Lithuanian

Price: 552.0 EUR

Professional translation

GET QUOTE
*Order price for chosen time, with discounts
How to order interpreter in Trelleborg:
- click "Order now" opposite to the chosen service
- use a credit card or receive an invoice for payment to place the order. Also you can choose option of cash payment the interpreter.
- receive order confirmation and the Voucher with data for contact with the interpreter