Poland, Otwock
Chosen period: from 10:00 to 18:00 - January 28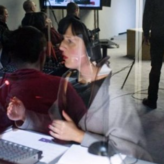 Magdalena
Professional interpreter in Otwock
Response rate:

10%
Average response time:

Within an hour
Send a preliminary request to the interpreter or book now the chosen date and time by means of the "Order now" button opposite to services below.
Experienced and professional conference interpreter in Warsaw, certified with a Diploma of European Masters in Conference Interpreting. I have proved myself to be reliable, flexible and client-oriented, with a positive attitude towards any situation which enables me to deliver a top class service even under challenging circumstances
My skills are the result of over 10 years of experience in both simultaneous and consecutive interpreting, delivered for various institutions and companies. I have gained wide experience in various areas, including law and finance, banking, medicine and pharma, EU and international affairs, energy, marketing and PR, construction, architecture and sports. Among others, I have interpreted for: Harvard Business Review Poland, XII World Summit on Nobel Peace Laureates, NATO - Parliamentary Assembly, Summit of the Speakers of EU Parliaments, EU Committee of Regions, Congreso de los Diputados, Senado de España, Google, Facebook, Microsoft, Lenovo, Oracle, UEFA, WHO (World Health Organization), Tribunal de Cuentas de España, Unicredit Group, Citibank, BNP Paribas, Polish Ministry of Finance, Health, Interior, Justice, International Affairs, CIMA (Chartered Institute of Management Accountants , Embassy of USA, Switzerland, Finland, Chile, Kimberly Clark, Mercedes-Benz, Peugeot, Lockheed Martin, The Senate of the Republic of Poland, etc. I would be pleased to present my credentials and experience in your area of interest. If you have any further questions please do not hesitate to get in touch with me. Together with my booth partner, Bartłomiej Zwardoń, we are a first-rate team offering services at the highest level. As business partners we focus on customer relations and premium quality. In case it is necessary we are able to provide our own equipment for simultaneous interpretation (booth, headsets) and a sound system.
Interpretation specialization:
Automotive industry | Banking | Economy | Equipment and technologies (as a whole) | International relations and organizations | Marketing, market research | Medicine (as a whole) | Retail trade (generally) | Telecommunications | Trade (as a whole) | Law (as a whole)
Interpretation language pairs:
Polish - Spanish | Spanish - Polish | English - Spanish | Spanish - English | Polish - English | English - Polish
Services are available for order, January 28 (10:00 - 18:00): Change date, time?
Price*
for 8 hours

Order

Interpreter at a seminar or conference

Free cancelation

Discount -9 %

552.0 EUR

order now

Booking date and time: January 28 (10:00 - 18:00)

Interpreter at a seminar or conference in Otwock

Languages: English - Polish

Price: 552.0 EUR

Professional translation

GET QUOTE
*Order price for chosen time, with discounts
How to order interpreter in Otwock:
- click "Order now" opposite to the chosen service
- use a credit card or receive an invoice for payment to place the order. Also you can choose option of cash payment the interpreter.
- receive order confirmation and the Voucher with data for contact with the interpreter