United Kingdom, London
Chosen period: from 10:00 to 18:00 - February 11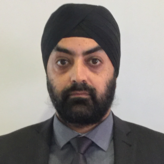 Harminder
Professional interpreter in London
Response rate:

100%
Average response time:

Within a few hours
Send a preliminary request to the interpreter or book now the chosen date and time by means of the "Order now" button opposite to services below.
Interpreter ,Translator & Translation Documents Verifications. in following languages: Dari, Farsi, Punjabi, Hindi and Urdu
Working with local government offices such as Police Stations, Courts, Prisons, Home office and Solicitors. Working within Criminal Justice System and assisting local authorities and also Immigration Inspectorate. Also working within the private sector within the legal profession, specifically providing translation services for law firms. (The recent deployment was with Frontex European Union Agency in Greece) Achievement & Experience 1-Working with all level of the public to which this work relates. 2-Good direct contact with public. 3-Dealing with different clients from different countries. 4-Working with client one –to- one enable to cultivate good communication skills and excellent telephone manner. 5-Enhanced documents translation. 6- Working within advance timed constraints.
Interpretation specialization:
Law: legal proceedings | Linguistics | Psychology and psychiatry | Law (as a whole)
Interpretation language pairs:
Hindi - English | English - Hindi | Persian - English | English - Persian | Urdu - English | English - Urdu | Panjabi - English | English - Panjabi | Dari - English | English - Dari
Services are available for order, February 11 (10:00 - 18:00): Change date, time?
Price*
for 8 hours

Order

Interpreter at a seminar or conference

Free cancelation

Discount -13 %

361.0 EUR

order now

Booking date and time: February 11 (10:00 - 18:00)

Interpreter at a seminar or conference in London

Languages: Dari - English

Price: 361.0 EUR

Professional translation

GET QUOTE
*Order price for chosen time, with discounts
How to order interpreter in London:
- click "Order now" opposite to the chosen service
- use a credit card or receive an invoice for payment to place the order. Also you can choose option of cash payment the interpreter.
- receive order confirmation and the Voucher with data for contact with the interpreter