Indonesia, Jakarta
Chosen period: from 10:00 to 18:00 - January 10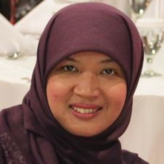 Yanti Susanti
Professional interpreter in Jakarta
Response rate:

100%
Average response time:

Within an hour
Send a preliminary request to the interpreter or book now the chosen date and time by means of the "Order now" button opposite to services below.
I have been in translation/interpretation industry since 1995. Only provides quality translations for all clients. Serving many international non-governmental organizations, government institutions and respected individual consultants for development or health specific-projects in Indonesia.
Topic of interests are Public Health, HIV and AIDS, Maternal and Child Health, Sexual and Reproductive Health, Behavioral Change Communication, Science, Pharmaceuticals, Project Management, Project Monitoring and Evaluation, Education, General Business. My clients are mostly international NGOs/organizations working on health or Public Health issues. Able to work individually or in a team and client's satisfaction oriented.
Interpretation specialization:
Education, training and pedagogics | General interest subjects | Governance and management | Materials science | Medicine: health care
Interpretation language pairs:
English - Indonesian | Indonesian - English
Services are available for order, January 10 (10:00 - 18:00): Change date, time?
Price*
for 8 hours

Order

Escort of delegations

Additional services

Free cancelation

Discount -6 %

274.0 EUR

order now

Booking date and time: January 10 (10:00 - 18:00)

Escort of delegations in Jakarta

Languages: Indonesian - English

Price: 274.0 EUR

Phone interpreter

293.0 EUR

order now

Booking date and time: January 10 (10:00 - 18:00)

Phone interpreter in Jakarta

Languages: Indonesian - English

Price: 293.0 EUR

Interpreter at a seminar or conference

Additional services

Free cancelation

307.0 EUR

order now

Booking date and time: January 10 (10:00 - 18:00)

Interpreter at a seminar or conference in Jakarta

Languages: Indonesian - English

Price: 307.0 EUR

Professional translation

GET QUOTE
*Order price for chosen time, with discounts
How to order interpreter in Jakarta:
- click "Order now" opposite to the chosen service
- use a credit card or receive an invoice for payment to place the order. Also you can choose option of cash payment the interpreter.
- receive order confirmation and the Voucher with data for contact with the interpreter