Turkey, Istanbul
Chosen period: from 10:00 to 18:00 - February 11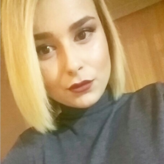 Aylin
Professional interpreter in Istanbul
Response rate:

22%
Average response time:

Within an hour
Send a preliminary request to the interpreter or book now the chosen date and time by means of the "Order now" button opposite to services below.
I will give 100% to all my Clients and make sure all customers are satisfied .
My Name is Aylin , I have recently relocated to Istanbul from Australian . Born and raised in Australia , I have been studying all my life to grow my knowledge. English is my first language I am highly qualified in English teaching . All my studies / work life included customer contact, sales , management , translation , accounting , business ,training and face to face sales. I am highly motivated , skilled and reliable . my focus has always been based on customers , I am very focused and always take that extra step . Further more I am a young ,bubbly ,business woman who wants a reliable working structure and a motivated work surrounding and I am always willing to try a new task and adventure .
Interpretation specialization:
Accounting | Telecommunications | Tourism and travel | Trade (as a whole) | Marketing, market research
Interpretation language pairs:
English - Turkish | Turkish - English
Services are available for order, February 11 (10:00 - 18:00): Change date, time?
Price*
for 8 hours

Order

Phone interpreter

Additional services

Free cancelation

Discount -10 %

492.0 EUR

order now

Booking date and time: February 11 (10:00 - 18:00)

Phone interpreter in Istanbul

Languages: Turkish - English

Price: 492.0 EUR

Interpreter at an exhibition

Free cancelation

Discount -10 %

492.0 EUR

order now

Booking date and time: February 11 (10:00 - 18:00)

Interpreter at an exhibition in Istanbul

Languages: Turkish - English

Price: 492.0 EUR

Professional translation

GET QUOTE
*Order price for chosen time, with discounts
How to order interpreter in Istanbul:
- click "Order now" opposite to the chosen service
- use a credit card or receive an invoice for payment to place the order. Also you can choose option of cash payment the interpreter.
- receive order confirmation and the Voucher with data for contact with the interpreter