Italy, Como
Chosen period: from 10:00 to 18:00 - January 10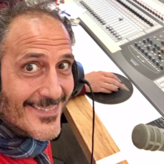 Natalino
Professional interpreter in Como
Response rate:

82%
Average response time:

Within an hour
Send a preliminary request to the interpreter or book now the chosen date and time by means of the "Order now" button opposite to services below.
I am a professional interpreter/translator Italian-English/English-Italian, with over 15 years of working experience. Simultaneous translation is what I enjoy the most, for I find it extremely challenging. I have a great passion for movies, thanks to my job I had the chance to work with a few Hollywood people, it was awesome!
Professional Interpreter/Translator Italian-English/English-Italian, with extensive experience in Media, Content, Communication, Advertisement and Public Relations. Freelance English Coach and Ghostwriter for Institutional Bodies and Private Companies. Press Officer and Corporate Communication Account. Specialties Translation and simultaneous interpreting for conferences and business negotiations. Writing, editing, authoring and transcreating experience. Utmost flexibility, ability to adapt to multiple tasks and familiar with working in a multilingual environment. Latest/relevant experience: Simultaneous interpreting for On The Corner Films – London (UK), Naples (ITA), Dubai (UAE); Working for Academy Award winning director Asif Kapadia in the making of MARADONA, a feature documentary on the life and career of Diego Armando Maradona.
Interpretation specialization:
Advertizing and PR | Architecture, interior design | Cinema and television | Ecology and environmental protection | Mass media, journalism
Interpretation language pairs:
Italian - English | English - Italian
Services are available for order, January 10 (10:00 - 18:00): Change date, time?
Price*
for 8 hours

Order

Interview interpreter

Free cancelation

Discount -15 %

680.0 EUR

order now

Booking date and time: January 10 (10:00 - 18:00)

Interview interpreter in Como

Languages: Italian - English

Price: 680.0 EUR

Professional translation

GET QUOTE
*Order price for chosen time, with discounts
How to order interpreter in Como:
- click "Order now" opposite to the chosen service
- use a credit card or receive an invoice for payment to place the order. Also you can choose option of cash payment the interpreter.
- receive order confirmation and the Voucher with data for contact with the interpreter