United States, Chicago
Chosen period: from 10:00 to 18:00 - February 4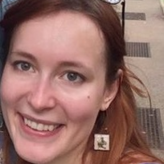 Maryna
Professional interpreter in Chicago
Response rate:

16%
Average response time:

Within an hour
Send a preliminary request to the interpreter or book now the chosen date and time by means of the "Order now" button opposite to services below.
Russian/Ukrainian interpreter and translator Main area of expertise: medical interpretation. Other areas of expertise: architecture and interior design, banking, insurance, social services, IT. Certified Medical Interpreter for Russian. IMIA member. Area of operation: USA, East Coast.
I'm a professional Russian/Ukrainian interpreter with 3 years of experience and a Bachelor's degree in Linguistics. I provide interpretation and translation services. I currently operate on the East Coast in the US. My main area of specialization is medical interpretation. I'm certified as a Russian medical interpreter by the National Board of Certification for Medical Interpreters. I'm also a member of International Medical Interpreters Association. However, I provide interpretation services for a variety of clients over the phone on a daily basis. Therefore, I also have experience of interpreting for insurance companies, banks, social services, IT companies etc. I also have experience of interpretation during business meetings at international furniture fairs. I will be glad to assist with your interpretation or translation needs. You can rest assured you'll be working with a qualified and experienced professional.
Interpretation specialization:
Architecture, interior design | Banking | Computers and Internet (as a whole) | Cookery and food industry | Cosmetics, perfumery, fashion | Finance and credit | Insurance | Marketing, market research | Medicine: cardiology | Tourism and travel | Medicine (as a whole)
Interpretation language pairs:
English - Ukrainian | Ukrainian - English | English - Russian | Russian - English
Services are available for order, February 4 (10:00 - 18:00): Change date, time?
Price*
for 8 hours

Order

Phone interpreter

234.0 EUR

order now

Booking date and time: February 4 (10:00 - 18:00)

Phone interpreter in Chicago

Languages: English - Ukrainian

Price: 234.0 EUR

Professional translation

GET QUOTE
*Order price for chosen time, with discounts
How to order interpreter in Chicago:
- click "Order now" opposite to the chosen service
- use a credit card or receive an invoice for payment to place the order. Also you can choose option of cash payment the interpreter.
- receive order confirmation and the Voucher with data for contact with the interpreter