Germany, Bonndorf im Schwarzwald
Chosen period: from 10:00 to 18:00 - January 21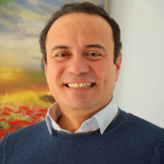 Dr. Hammouda Salhi
Professional interpreter in Bonndorf im Schwarzwald
Response rate:

56%
Average response time:

Within a few hours
Send a preliminary request to the interpreter or book now the chosen date and time by means of the "Order now" button opposite to services below.
Hammouda Salhi, PhD is a Senior Interpreter (Arabic-English-French)-- You deserve better wor(l)ds-- Extensive experience (20 years) as Chief Interpreter, Professor & Author. - Interpreted for high-profile world leaders, e.g. former and current UN Secretaries General Moon and Guterres, Russian President Putin and President Gauck.
HAMMOUDA SALHI, PhD. Senior Conference Interpreter and Consultant.-- Arabic-English-French. SHORT BIO DETAILS: Because you deserve better wor(l)ds, Dr. Salhi is your best choice. He is the Director of the Master's Program in Translation and Interpreting at the University of Tunis El Manar. He has many publications in the area of translation and cross-cultural communication and has given talks in many conferences worldwide. He has extensive professional experience as a senior conference interpreter, translator, and language consultant in the areas of law, business, security, documentary, diplomacy, administration, cross-cultural matters, and communication. He has successfully serviced thousands of meetings, workshops and conferences as an international interpreter: about 220 days per year on average, in almost 25 countries. He acted as interpreting consultant, interpreting team leader and chief interpreter coordinating and chairing large teams of interpreters for a number of organizations and clients. He has interpreted for high-profile world leaders, such as former and current UN secretaries General Ban Ki Moon and António Guterres, current Russian President Vladimir Putin and former German President Joachim Gauck . Dr. Salhi is accredited to several international institutions such as the United Nations, World Bank, Many International NGOs, Several Governments, etc. His research interests are at the intersection between Interpreting studies, lexical and communication studies, translation pedagogy and the professional aspects of interpreting. He is a member of the editorial board of Translation and Translanguaging in Multilingual Contexts (TTMC), John Benjamins Publishing Company . He is Founder of Turjuman Project for translation practice, training and research. Dr. Salhi has a BA in Translation, an MA in Linguistics and a PhD in Translation Studies.
Interpretation specialization:
Accounting | Art, crafts, painting | Banking | Cinema and television | Commerce (as a whole) | Ecology and environmental protection | Economy | Education, training and pedagogics | Fishery and fish breeding | Geography | Law (as a whole)
Interpretation language pairs:
Arabic - Spanish | Spanish - Arabic | Italian - Arabic | French - English | English - French | French - Arabic | Arabic - French | Arabic - English | English - Arabic
Services are available for order, January 21 (10:00 - 18:00): Change date, time?
Price*
for 8 hours

Order

Interpreter at a seminar or conference

Additional services

Free cancelation

400.0 EUR

order now

Booking date and time: January 21 (10:00 - 18:00)

Interpreter at a seminar or conference in Bonndorf im Schwarzwald

Languages: Arabic - English

Price: 400.0 EUR

Professional translation

GET QUOTE
*Order price for chosen time, with discounts
How to order interpreter in Bonndorf im Schwarzwald:
- click "Order now" opposite to the chosen service
- use a credit card or receive an invoice for payment to place the order. Also you can choose option of cash payment the interpreter.
- receive order confirmation and the Voucher with data for contact with the interpreter